Physical Distancing Can't Stop Us From Dancing…and Building Relationships
Regular interaction is critical, even when teams work remotely. When teams communicate and engage with one another, on a regular basis, relationships are strengthened.
While our world has changed and many are working remotely, we still have the ability to forge strong bonds, by sharing experiences. That's where Virtual Team Building comes into play!
Staring at a screen all day is difficult, especially in isolation. It is important to move around to get your blood flowing. The following game adds joy to any virtual call and allows you to move your feet!
Staying Connected With Your Team Series
---
Virtual Team Building Exercise: Dance Machine
Before your next video conference call gets underway, try out Dance Machine to get your team moving, grooving, and ready for a productive meeting!
First, you should designate one person to be the group leader. They will instruct all participants to stand up (if they are able to).
The leader will set the order of who goes first, second, third, and so on. When called upon, each participant will share something about themselves — preferably not something found on their resume. Participants have a choice about what they reveal about themselves, so as to not create embarrassing situations!
Terrapin Tip: Things like special interests, hobbies, special skills, interesting trips or fun facts are great fodder for sharing!
After sharing a tidbit about themselves, the participant performs their signature dance move.
Then the other members say "hello" to the person by name, "Hello, _____," and repeat their dance move. Then, you move onto the next person!
Benefit to Your Team: By sharing something personal about oneself, team members gain confidence in each other, as they get to the rest of the group on a deeper level. Breaking this barrier leads to higher levels of trust and cooperation. Plus, the added benefit of getting to move will put a smile on your face!
---
Dance Machine in Action:
Experience Team Building with Terrapin Adventures
---
Team Building Programs with Terrapin Adventures
When your team is ready for a more comprehensive program, check out our Virtual Team Building Team Building Program or face-to-face Team Building Program!
Our Guest Relations Specialists will help you plan your customized event — tailored to meet your specific needs!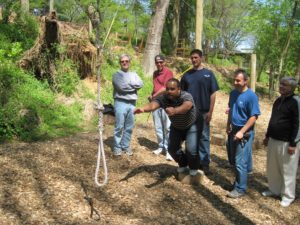 We've led programs for over 3,000 groups! From Fortune 500 Companies to small, local non-profits, we know how to translate your team building experience to your real-world lives.
Whether you visit us at our unique Savage Mill location and Adventure Park, or want us to take our show on the road to your location — to places like a company's office space, conference centers, parks, or hotels — Terrapin Adventures' has more than 11 years of experience taking teams to new heights!