Virtual Team Building:
Building Relationships While Working Remotely
Regular interaction is critical, even when teams work remotely. But it's not easy to make the transition from person-to-person interactions to conducting your business over the phone or on the screen.
Similar to a day at the office, people need to get up and move about. Staring at a screen all day is difficult, especially in isolation.
These next games & exercises can cut through the monotony of the work day, and maintain team spirit. While participating in your next video conference call try these exercises to improve collaboration and sharpen communication!
Staying Connected With Your Team Series
---
Team Building Exercise: Dicebreakers
Have everyone bring a die or use random.org's free program to randomly generate a dice roll. Each team member takes a turn rolling the dice and depending on what number they roll, they'll answer the following question:
1: What would you do over again if you had the chance?
2: Which famous person would you like to meet and what would you ask them?
3: If you could choose a unique superpower, what would it be?
4: What are you really good at?
5: What is your favorite thing to do?
6: Stand up and do your happy dance!
Benefit To Your Team: Revealing something personal about yourself cultivates stronger bonds with your team. People tend to share more with people who they trust, as a result of breaking down the artificial work barriers of: position, the supervisor-subordinate relationship, new employee vs. long-time employee.
---
Team Building Exercise: Tell Me A Story
Your group will spin a fantasy tale. Designate one person in your group as the leader (when doing Virtual Team Building with Terrapin Adventures, our facilitator will lead this exercise). They'll decide the order by which the team will tell their story.
The leader selects one person to begin a story. Think, 'Once upon a time…'
That person will speak for about 15 seconds. The leader then selects another person to continue the story that was started by the person before them, for about 15 seconds. This continues on throughout the exercise. But there's a twist!
Throughout the narration, the group leader might say "Change!" At this time, the person speaking must make a dramatic change in either the topic, characters, direction, or theme of the story.
The group can take notes during the exercise — but do not prompt them to do so. This should be done on their own and addressed during the debrief session.
Benefit to the Team: This exercise stimulates active listening and spontaneous creativity.  Active listening helps reduce misunderstandings. Having to change the narrative, mid-story, forces teams to be agile — considering not only what they want to say, but what the person is saying ahead of them. You'll get a kick out of the wild turns the story takes as it evolves!
---
Team Building Prepares Teams for Productive Meetings
After completing either of these fun team builded exercises (or both), your team should be ready to begin the business portion of your meeting with a positive attitude and tighter bonds.
We recommend that you limit the group size to 12 participants or less. If you have a larger group, divide the team up into smaller breakout rooms (thanks, Zoom!).
---
Customized Team Building Programs
When your team is ready for a more comprehensive program, check out our Virtual Team Building Team Building Programs, face-to-face Team Building Program, you can speak to one of our Guest Relations Specialists to help you plan your customized event!
You can best reach us and get a free Team Building quote here.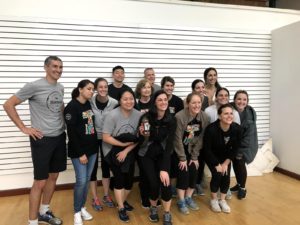 We have run programs for over 3,000 groups. We have led team building events at our unique Savage Mill location or taking our show on the road to places like a company's office space, conference centers, parks, or hotels.