Getting To Know Each Other
Team Building enables employees to connect with their colleagues on a personal level. When you see someone as more than just their job title, you're more likely to lend them a helping hand.
The following games improve team spirit by breaking down barriers and allowing participants to share their lives with the team. While participating in your next video conference call try these exercises to improve collaboration and foster a collective identity!
STAYING CONNECTED WITH YOUR TEAM SERIES
---
Stand if You Have…
This one is pretty straightforward! The leader of the meeting will ask participants to stand if they have ever done the following:
Traveled out of the country

Run out of gas, while driving

Volunteered in your community

Played on a sports team

Sang in the shower

Cried during a movie
Benefit to your team: This gets people out of their chairs — and their blood flowing. Movement that most can do! (if you can't stand, raise your hand, instead). This also provides colleagues a chance to learn more about one another.
---
Sharing & Relying on Each Other
Have attendees pick one of the four boxes, and then share their response to the box with the rest of their team.
Request help with a problem

Everyone needs help, sometimes. Maybe you're stuck on a work project. Maybe you need some advice in the kitchen. Sharing is caring! Ask for help!

Share a success story no matter how small

Again, this doesn't have to be work-related. Perhaps you just ran your first 5K (way to go!). How about planning a successful school lesson for your kids?

I heard about/saw this cool idea

Share a new idea — even if it's not directly related to work.

Isn't that wacky?!

Share something that made you do a double-take.
Benefit to your team: This helps people feel more comfortable communicating and sharing — and of course fosters a sense of connection between colleagues!
After completing these fun exercises, your team should be ready to begin the business portion of your meeting with a positive attitude and tighter bonds.
We recommend that you limit the group size to 12 participants or less. If you have a larger group, divide the team up into smaller breakout rooms (thanks, Zoom!).
---
Customized Team Building Programs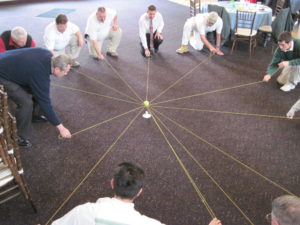 When your team is ready for a more comprehensive, face-to-face Team Building Program, please contact one of our Guest Relations Specialists to help you plan your customized event!
You can best reach us AND get a free Team Building quote here.
We have run programs for over 3,000 groups. We have led team building events at our unique Savage Mill location or taking our show on the road to places like a company's office space, conference centers, parks, or hotels.