Staying Connected
Terrapin Adventures now offers Virtual Team Building for all your remote-work needs!
Youth Programming Available: Check Out our Virtual Field Trips
---
Testimonial
Q&A with Dawn Chism, Owner of All That's Therapeutic, Inc.
Terrapin Adventures: What were your goals from the virtual team building session and did Terrapin Adventures help you achieve them?
Dawn: Our goal was to enhance the morale of the team that has suffered tremendously due to COVID. Terrapin Adventures was excellent with helping us to plan and execute our virtual program.  They asked the right questions in order to determine exactly what our needs and goals were.  They executed the program extremely well and exceeded our expectations.
The best part of the program was seeing our team members smile and laugh again.  Although the program was virtual, we were able to connect as if we were in person.  It felt like the good old pre-COVID days!
Terrapin Adventures: Would you recommend Terrapin Adventures to others for virtual team building?
Dawn: Without hesitation.
---
 Defining Virtual Team Building
It's critical for organizations to stay connected during this time of social — and professional — distancing.
Our Team Building experts have developed a productive, customizable program that addresses your team's needs and helps you achieve your goals, during this time of physical separation.
By utilizing our Virtual Team Building, you can:
– Sharpen digital communication skills
– Stimulate creative problem-solving techniques
– Enhance collaboration
---
Virtual Team Building: What it Takes
We'll conduct Virtual Team Building programs via Zoom — much like your typical video conference!
Sessions will last 60-120 minutes | We also offer an optional 30-minute Add-On exercise (included in the two-hour package)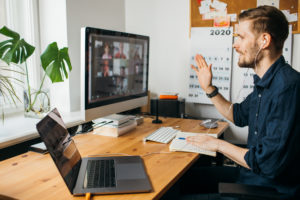 Our program harnesses the power of technology to achieve the same results we've delivered to hundreds of organizations over the last 11 years.
Each team member brings with them*:
– Computer or cell phone with video-conference capabilities
– A positive attitude
*We may ask participants to bring a couple common household items to run certain team building exercises and activities. We will provide ample notice so that your team can collect these items.
---
Virtual Team Building: Who is it for?
Much like our patented Team Building programs, a Virtual Team Building session is valuable for all types of organizations and companies in all sizes!
–
Built for Groups of 6 or more participants | Programs start at $234
–
Non-profits | Corporations | Teachers & Educators | Government Agencies
College & Graduate Programs | Sports Teams
Learn about Virtual Field Trips for students of all ages
---