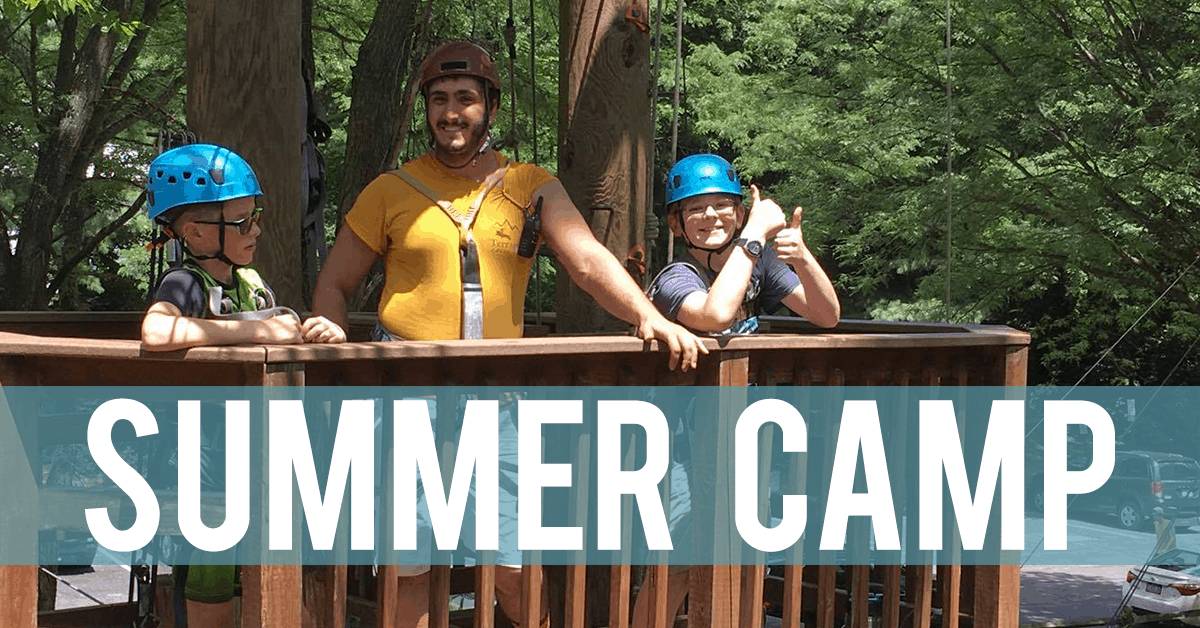 In recent posts, we have discussed why summer camp is so important for your children and how it helps develop early leadership skills, further intellectual development, improve socialization, and grow as a person. There is also another pretty obvious benefit to camp – Physical Fitness.
In a day and age where children are spending more and more time in front of screens – 7.5 hours a day, according to Jess Michales, Parent Guide News – it is becoming increasingly important to parents to encourage an active lifestyle. This is especially true during the summer months when children tend to have more unstructured downtime than they would during the school year.
"Parents occupy a privileged position in terms of influencing their children's physical activity," says Cheryl A. Zecevic et al.
Promoting a Healthy Lifestyle: How Summer Camp Fits In
"Children have a great need for physical exercise and activity and a chance to use their muscles to run, swing, jump, skate and ride a bike, and to be out in the fresh air and sunshine," says Dr. Kathleen Alfano. Summer camp checks all the boxes.
Summer Camp Encourages Physical Fitness
The U.S. Department of Health & Human Services recommends that children get moderate to vigorous activity for a at least one hour, per day.
"The environment and activities at camp incorporate all of the elements of healthy youth development," according to a study conducted by Harris Interactive. "Summer camp provides young people with productive and creative uses for their time by offering a valuable mix of both physical and intellectual activities." Take Terrapin Adventures, for example. We offer three summer camp experiences that are not only designed to be fun, but also introduce children to new and exciting activities they may not have otherwise tried:
Ultimate Adventure Camp: Each day, campers will embark on an exciting adventure, learning new outdoor leadership skills along the way. They will have a thrilling week participating in mountain biking, kayaking, ropes and much more!
Rock N' Adventure Camp: Earth Treks Columbia once again to bring you our Rock N' Adventure program, which introduces campers to the basics of Rock Climbing.
Adventure Expeditions Camp: Campers will discover their inner adventurer during their week at Adventure Expeditions Camp! We provide campers instructions as they try new outdoor adventure skills including camping, climbing, kayaking, biking, archery, slacklining, and more!
"In a distracting digital world, camp offers valuable space where kids can slow down, connect and focus," says Christa Melnyk Hines, Indy's Child. This invaluable experience helps children in a number of ways, impacting both physical and mental health.
The Link between Physical Fitness and Mental Health
Children who exercise regularly demonstrate "greater attentional inhibition and cognitive flexibility," writes Karen Dineen Wagner, MD, PhD. This directly correlates to improved performance in the classroom, says Julie Davis, WedMD.
"Active children do better in class and on tests because exercise seems to lead to larger brain volumes in areas associated with memory and thinking functions, such as behavior and decision-making."
Physical fitness has also been shown to improve attention spans, which also contributes to improved academic performance. "Active kids also appear to have better concentration and longer attention spans," says Davis. "Being fit helps them stay focused to complete assignments."
The Importance of Outdoor Play: Physical and Emotional Benefits
Only about 10 percent of children spend time outdoors every day, according to a nationwide poll conducted by The Nature Conservancy.
"Research shows that children are spending half as much time outside as they did 20 years ago – and much more time doing 'inside activities," writes researcher F. Thomas Juster. This lack of outdoor time can have a direct impact on the health of your child, both physical and emotional.
"Getting outdoors and closer to nature has all sorts of benefits for our children. It keeps them fit, they can learn about the world around them and most of all it's fun," says Fiona Reynolds, Director-General of the National Trust.
Terrapin Adventures, conveniently located in Howard County, Maryland, between Baltimore and Washington DC, offers three fun and exciting summer camp experiences designed to challenge your children physically and intellectually, and help them develop important life skills. We maintain a ratio of one Camp Counselor for every six campers, providing encouragement, support and a helping hand when needed.
Give your child a new experience that they'll remember for years to come.
If you have any questions, please call Terrapin Adventure at 301.725.1313, or email us at info@terrapinadventures.com to learn more.
Sources
Alfano, Kathleen . "The Benefits of Outdoor Play." Fisher Price, 2 Aug. 2017, www.fisher-price.com/en_US/parenting-articles/outdoor-play/the-benefits-of-outdoor-play. Accessed 25 Sept. 2017.
Davis, Julie. "Exercise Boosts Kids' Brain Health, Too." WebMD, HealthDay, www.webmd.com/children/news/20180105/exercise-boosts-kids-brain-health-too.
Dineen Wagner, Karen. "Mental Health Benefits of Exercise in Children." Psychiatric Times, UBM, www.psychiatrictimes.com/child-adolescent-psychiatry/mental-health-benefits-exercise-children.
Hines, Christa Melnyk . "8 Benefits of Summer Camp." Indy's Child Parenting Magazine, 28 Feb. 2017, indyschild.com/the-benefits-of-summer-camp/.
Juster, F. Thomas et al. (2004).  "Changing Times of American Youth: 1981-2003", Institute for Social Research, University of Michigan. Child Development Supplement
Ryan, Richard M., et al. "Vitalizing effects of being outdoors and in nature." Journal of Environmental Psychology, vol. 30, no. 2, 2010, pp. 159–168., doi:10.1016/j.jenvp.2009.10.009
Wise, Abigail. "Why Getting Fresh Air Is So Good For You." The Huffington Post, TheHuffingtonPost.com, 8 Aug. 2014, www.huffingtonpost.com/2014/08/08/tk-ways-fresh-air-impacts_0_n_5648164.html.