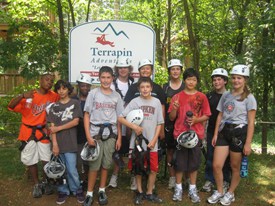 Each day Campers will embark on an exciting adventure, learning new outdoor leadership skills along the way. They will have a thrilling week participating in mountain biking, river tubing, geocaching, ropes, and much more! Our program is limited to 24 campers per session, ranging from 8 to 14 years old, so that we can provide the highest quality personalized instruction, safety, and fun. We will have Junior and Senior camping groups. Junior campers are 8-10 years old. Senior campers are 10-14 years old. Campers must weigh at least 70lbs. Terrapin Adventures provides the gear, you provide the enthusiasm and excitement!
Discover your child's inner adventurer! Campers will naturally step outside of their comfort zones on our one-of-a-kind Challenge Course as they traverse and conquer all three levels of our 40-foot High Ropes Challenge Course. They will test their strength and courage on our 43-foot Terrapin Tower, with 12 different ways up & down including two rock walls, cargo nets, rope ladders and tires, and our gravity defying Rainbow Serpent; a 40-foot upside down crawl to the ground. After all the climbing, campers will get to leap off our 330 foot long Zip line soaring up to 20 mph while flying through the woods. For an added thrill, campers will try jumping off the the dropzone, where they will free fall for 6 feet before descending down the forty foot drop. If that's not enough of a thrill, then our Giant Swing awaits. Here, campers will be pulled up to around 40 feet and then they will swing and endure 2 G's of force while screaming with fear excitement.
Every day of the week is a new adventure! Located along the Little Patuxent River, the Savage Mill woods allows campers to explore and enjoy this area in many different ways. One day, our senior campers will hop on our mountain bikes to explore the trails of the Patuxent and eat lunch in front of Lake Elkhorn, while learning the principles of Leave No Trace (Please note: Our Junior campers will participate in separate activities during the biking adventure). Another day we will hit the trails in Savage Mill for a geocaching adventure. Campers will use an electronic GPS to navigate to hidden "treasure" while learning about the flora and fauna along the trail. One day during the week, campers will beat the heat as they float down the Patapsco River, learning even more about the environment around them. On day 4 of the first two weeks, campers stay overnight and learn campfire cooking, enjoy stargazing n s'mores, and stay overnight inside our facility.The week ends with a themed pizza party for lunch on Friday and a few last fun activities.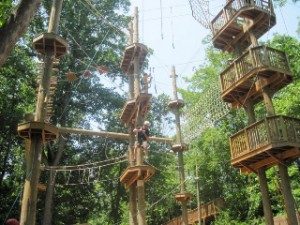 All camp staff is first aid and CPR certified as well as trained in all elements of our challenge course, bike trails, geo-caching and river tubing. All staff has passed federal background checks as well. Our Camper to staff ratio is 6:1. This allows counselors to build more of a personal connection with each camper and ensure that all campers are safe and having FUN.
Campers will be given a list of what to bring and not to bring each day. Campers will also have to bring their own non-perishable lunch and each day except for the pizza party. Each Camper will also receive a Terrapin Adventures Ultimate Adventure Camp T-shirt, stickers, friends and memories that will last a lifetime.
Enroll by April 1, 2017 for $395.  After April 1st, $425.  July 3rd, Jul 31st, Aug 7th weeks costs $325 as it is only 4 days.
Now offering before and after camp care 8am-9am and 4pm-5:30pm for $60 for 4 days
You will also need to complete the attached forms and return them to us 2 weeks prior to camp starting.
Ultimate Adventure Camp Registration Form and Waiver
Medical History Form and Non-Prescription Waiver
If your camper will be bringing medication, inhalers, or an Epi-Pen to camp, please fill these forms out *Please note that your camper must be able to self administer their medication.
Medication Form and Medication Administration Authorization Form
Dates and Times:
Session 1: June 19- June 23 9am- 4pm*
Session 2: June 26- June 30 1 9am-4pm*
Session 3: July 3- July 6 9am- 4pm
Session 7 July 31- August 3 9am-4pm
Session 8 August 7- August 10 9am- 4pm
*Weeks that include the overnight adventure