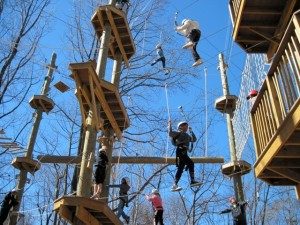 This camp is for those looking to get down and dirty while still having the week of a lifetime. Adventure Expedition starts off as a normal day camp, but how normal? Campers will start with a day of High Ropes Adventure. Counselors will lead campers through our 40 foot, 3 level High Rope Challenge Course where they must traverse, climb, Swing, jump and zip through 18 different challenges. Next, campers will try and conquer all 12 routes up to the top of our 43 foot Terrapin Climbing Tower. Campers will learn how to belay each other which, in return has campers working together and trusting one another.
They will fly 330ft down our zipline at up to 20mph with their hair blowing in the wind. If that is not enough of a thrill, then the Giant Swing awaits. Campers will be pulled 40ft into the air, and just like that, they will swing and experience 2 G's of force while screaming with fear and delight, and that's just Day One. Day Two entails a 13 mile mountain biking trip on some of the trails that run along the Little Patuxent River and Lake Elkhorn. Campers will eat lunch on the trail while also exploring and cooling off in the Little Patuxent River.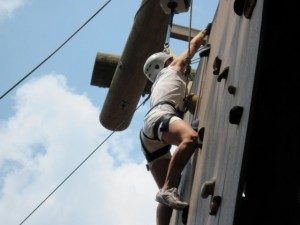 On Day Three, Adventure Expedition takes a twist. Campers will be dropped off at Patapsco State Park Hilton Area for a 3-day 2-night camping trip. We will provide almost everything needed. Only thing you need to bring is some clothes, sleeping bag and curiosity about the great outdoors. During this trip, campers will learn about the flora and fauna of Patapsco Valley State Park, the Patapsco River, and the Chesapeake Bay Watershed through a hands-on Scales N Tales program ran by the Department of Natural Resources. Campers will also learn proper camp etiquette along with setting up camp, cooking on the trail, first aid, Leave No Trace, orienteering using maps, compasses and themselves, and the history of the Patapsco Valley.
During the evening campers will see what the nightlife has to offer with a night hike along the trails of Patapsco Valley State Park. The final day will feature a relaxing 2 mile long river tube ride down the Patapsco River concluding the camp experience. All camp staff is CPR, First Aide and Wilderness first Aid certified and must pass a Federal Background check. Space is limited to 10 campers between the ages of 12-15.
Cost $450 if booked before April 1st. After April 1st, cost $495.  
Parents must complete the attached forms and return them to us 2 weeks prior to camp starting.
Adventure Expedition Registration Form and Waiver
Medical History Form and Non-Prescription Waiver
If your child will be bringing medication, inhalers, or Epi-Pens to camp, please fill out these forms:
Medication Form and Medication Administration Authorization Form
Dates: July 24-July 28
Times: 9am-4pm Monday & Tuesday at Terrapin Adventures, plus overnights Wednesday and Thursday and 9am-3pm on Friday at Patapsco Valley State Park