"Leadership is not a personality style; it is a learned set of skills attained through development opportunities that are integrated to a lifestyle of learning." – Katherine T. Whitnah1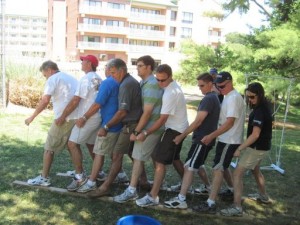 When many business owners or executives hear the phrase "corporate team building," they immediately cringe. The practice of team building has developed a negative connotation over the years for one simple reason – too many novices think they can facilitate these events. The reality: they can't. While it may seems like a very simple concept, team building is, in fact, an artform. It takes skill, leadership, and a tremendous amount of patience. It takes a professional.
"Team building activities should be designed, planned, executed and monitored so as to create synergy, increase skills and knowledge, create organizational flexibility, provide members satisfaction and allow members freedom to participate in decision making and implanting changes," write researchers Jacqueline M. Omuya, David M. Kungu, Leonard S. Mulongo, and Dedan O. Ong'anya.2
The good news: when designed and facilitated by a professional, team building IS an effective tool that can help positively affect business outcomes. "Team building has a positive moderate effect across all team outcomes," which include goal setting, interpersonal relations, problem solving, and role clarification. "In terms of specific outcomes, team building was most strongly related to affective and process outcomes."3 Simply put, team building works.
"Team developmental interventions are key mechanisms that may be used to facilitate team effectiveness," writes Raymond Noe in Employee Training and Development.4
Management: Leadership
As researcher Katherine Whitnah stated in this article's opening line, "Leadership is not a personality style." Leadership is not something we are born with. It is a learned trait, and one that has to be nurtured. This is where team building comes in.
"In the same way that naturally occurring events create changes for an organization, an organization has the ability to create a team building event that contributes to a culture of dynamic leaders who naturally adapt and respond to change," writes Whitnah. "As a result, organizations attain their goal of an inspired climate of learning that delivers ongoing and possibly accelerated, leadership development for individuals, teams, and the organization as a whole."
Employees: Happiness and Productivity
According to a Gallup study, lost productivity due to employee disengagement costs U.S. businesses more than $300 billion annually.5 So how can companies, like yours, increase productivity and profitability? By investing in employee happiness. "Human happiness has large and positive causal effects on productivity. Positive emotions appear to invigorate human beings."6
"If happiness is on the opposite side of success, you'll never get there," writes Shawn Achor, Harvard psychologist and author of The Happiness Advantage.  "But if you increase your levels of happiness in the midst of a challenge—in the midst of searching for investment, in the midst of a down economy—what we find is that all of your success rates rise dramatically – every business outcomes improves."7
One way to increase employee happiness and, thus, business success is to get up and get out of the office. "Working in an office can be a very sedentary job, so it's especially important to your overall sense of health and happiness to take a few minutes during your workday to get up and move a little," says Jason Bergund, founding director of Dancetherapy.8
Continued Success: The Follow-Up
"Well-planned programs are delivered by capable facilitators who guide learning rather than dictate results," says Whitnah. "After the event is complete, proper integration ensures learning is transferred from the challenge course to the office." This means incorporating the lessons learned during team building activities to daily office life, which is sometimes easier said than done. This is why follow-up sessions every three to six months are not only encouraged, but recommended.
"When team building is coupled with follow-up sessions in which team building commitments are reinforced and renewed, the positive effects of the team building are prolonged," writes researcher R. Wayne Boss.9
Terrapin Adventures is conveniently located in Howard County, Maryland, between Baltimore and Washington DC. Our experienced staff is able to create a custom corporate team building program– onsite or offsite, indoor or outdoor – that is designed to help your group increase their ability to problem solve, think creatively and collaborate with one another.
We service Maryland and Washington, D.C., and have traveled to other states as well.
If you have any questions, please call Terrapin Adventure at 301.725.1313, or email us at info@terrapinadventures.com to learn more.
Works Cited
Whitnah, Katherine T. A Phenomenological Inquiry: In the Context of Organizational Development, How Does Experiential Team Building in the Form of a High ROPES Course, Contribute to Positive Leadership Development, and How Can It Be Improved? Adler Graduate School. Web.

Omuya, Jacqueline M., David M. Kungu, Leonard S. Mulongo, and Dedan O. Ong'anya. "Effects of Team Building on the Performance of Employees in Organizations towards the Realization of Millennium Development Goals: A Survey of Selected Banks in Eldoret Town."International Journal of Current Research. Web.

Diazgranados, Deborah, Cameron Klein, Eduardo Salas, Huy Le, C. Burke, Rebecca Lyons, and Gerald Goodwin. "Does Team Building Work?" PsycEXTRA Dataset. Web.

Noe, R. A. (2002). Employee training and development (2nd ed.). Boston: McGraw-Hill.

Harter, J. K., F. L. Schmidt, J. W. Asplund, E. A. Killham, and S. Agrawal. "Causal Impact of Employee Work Perceptions on the Bottom Line of Organizations." Perspectives on Psychological Science (2010): 378-89. Print.

Oswald, Andrew J., Eugenio Proto, and Daniel Sgroi. "Happiness and Productivity." Journal of Labor Economics: 789-822. Print.

Achor, Shawn. "Positive Intelligence." Harvard Business Review 2012. Print.

"10 Tips for Staying Happy at Work." Interview by Jason Bergund. Monster. Web.

Boss, R. W. "Team Building and the Problem of Regression: The Personal Management Interview as an Intervention." The Journal of Applied Behavioral Science 19.1 (1983): 67-83. Web.