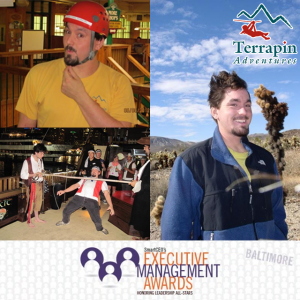 Terrapin Adventures is very pleased to announce that our general manager, Steve Carne, has been recognized as one of Baltimore's top 40 leaders as part of SmartCEO's 2016 Executive Management Awards (EMA) program. The EMA program recognizes the leadership and accomplishments of the region's management all-stars, executives who uphold the highest ethics, lead collaboratively and creatively, and enhance and support the organization's mission.
"SmartCEO designed the Executive Management Awards specifically to acknowledge senior leaders and honor their accomplishments," says Jaime Nespor-Zawmon, President of SmartCEO Events. "The 2016 Executive Management Award winners are not only leading their companies and co-workers to achieve great things, they are also making huge contributions to their communities."
EMA winners are chosen by an independent committee of local business leaders.
Steven Carne is a recent Maryland transplant who originally hails from the west coast. He has worked as an adventure guide for the last decade and is passionate about team building, experiential education, and sharing nature with others. Steve was recently named Terrapin Adventure's new general manager late last year, and has helped strengthen the organization's core values with his hands-on managerial approach and policy of open, honest communication.
"There are certainly projects I have spearheaded and initiatives I am quite proud of, many of which improved company value. But if the measure of successful management lay in driving company value, all singular things would fall short," says Steve. "Rather, I see the relationship building with employees, effective sharing of vision and motivation as the crux of driving company value.
"Through constantly engaging employees, I can connect with them, understand their concerns, sell them on our shared goals, and form an environment more akin to family than a dour place of work."
Steve and the rest of the EMA winners will be honored during an awards reception on Thursday, March 24, 2016, and will be profiled in the March/April issue of SmartCEO magazine.
About SmartCEO
SmartCEO's mission is to educate and inspire the business communities throughout Baltimore, New York, Philadelphia and Washington, DC metropolitan areas. Nearly 50,000 offensive-minded, growth-oriented CEOs turn to SmartCEO magazine to find ideas and inspiration to help them grow their businesses, while SmartCEO awards programs celebrate entrepreneurship and the achievements of businesses throughout the region. Winners and finalists of each awards program are covered in SmartCEO magazine and celebrated at high-energy, executive-level events that bring their stories to life.
About Terrapin Adventures
Conveniently located in Howard County, Maryland, between Baltimore and Washington DC, Terrapin Adventures has combined team building and thrills within the context of caring for and understanding our environment. We create customized programs for each individual organization, helping to increase communication and productivity. Terrapin Adventures offers both indoor and outdoor programs that can incorporate our Adventure Park, low and high ropes courses.
Over the years we have become a giving and growing part of the Baltimore-Washington community by working with local charities, tourists, businesses and neighbors.
If you have any questions, please call Terrapin Adventure at 301.725.1313, or email us at info@terrapinadventures.com to learn more.