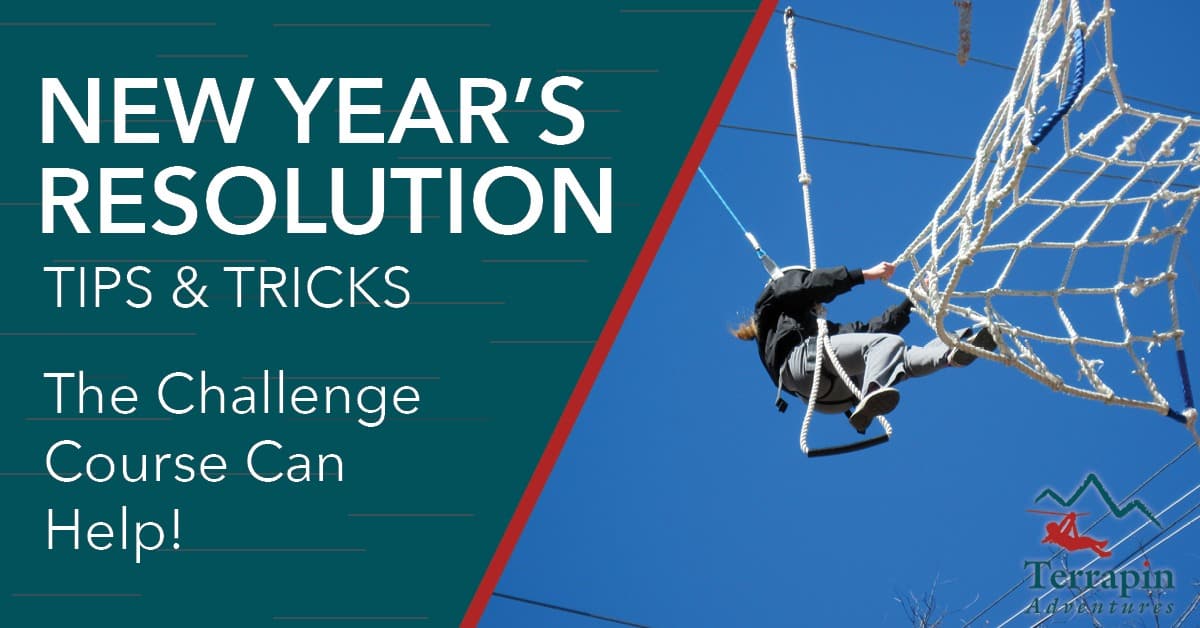 New Year, New Me. That's how the saying goes, right? At the end of every December, as the calendar flips to the next year, people everywhere make their New Year's resolutions. According to Forbes magazine, more than 40% of Americans make such resolutions, and many have to do with getting active and getting fit. However, many resolutions will fizzle out before February first. 
"25% of resolutions are abandoned just a week into the new year," writes William Arruda,

Forbes

.

80% of resolutions fail by the second week of February, according to U.S. News & World Report. 

Just 8% of people actually achieve their New Year's goals, according to the University of Scranton.
Keeping up with our resolutions can be a daunting task. However, we can make them last with a little help from our friend; the Challenge Course!
The Challenge Course Keeps It Fun!
Going to the gym, early in the morning, and lifting weights can be pretty boring, and the routine gets old pretty fast. Dr. Marc Tinsley recommends thinking "outside the barbell." Instead of going to the gym, why not challenge yourself at an adventure park??
"Fitness isn't about sweat, six-packs, and sex appeal; it's about having enough energy to do your activities of daily living safely and effectively," says Dr. Tinsley.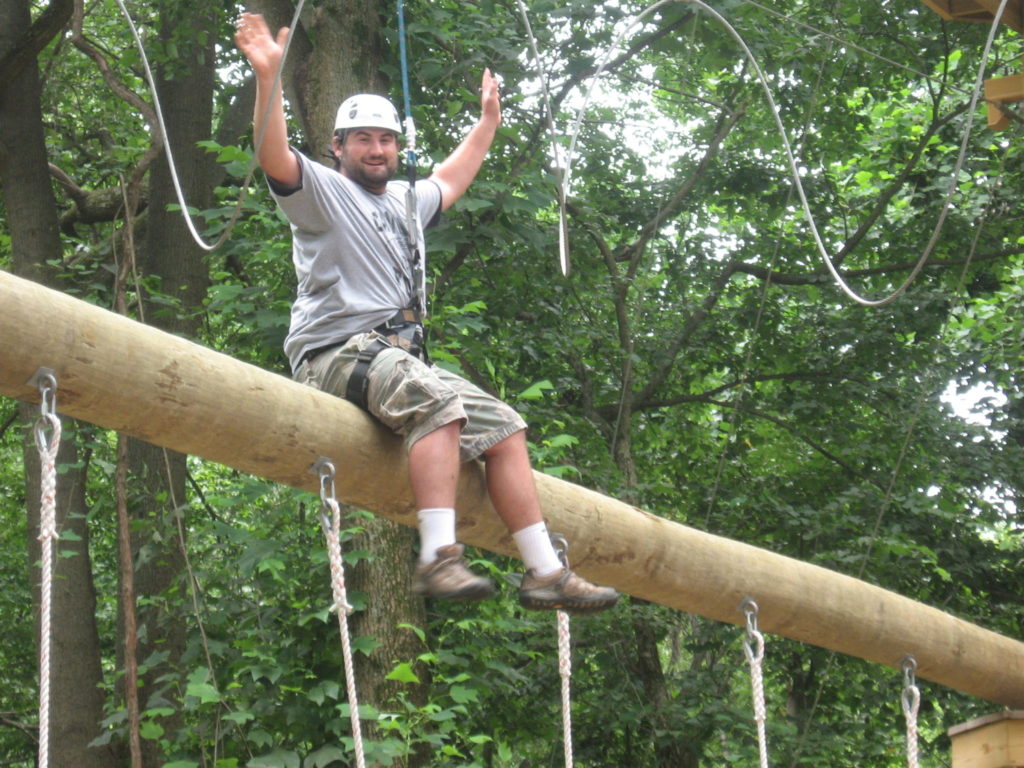 Terrapin Adventures sports a state-of-the-art adventure park — commonly referred to as a ropes courses — which offers multiple fun and high-flying obstacles to keep you active, entertained, and, most importantly, moving! Terrapin Adventures features a three-level High Ropes Challenge Course (with 18 unique traverses), a 43-ft. Climbing Tower  — with 12 ways up and down (including head-first) — a 330-ft. long Zip Line, an exhilarating Giant Swing, and take a leap off their Terrapin Flyer jump from 40 ft.!
"The elements [of the challenge course] produce powerful memories and provoke deep thoughts and emotions, while challenging physical abilities," write Brent D. Wolfe and Diane M. Samdahl.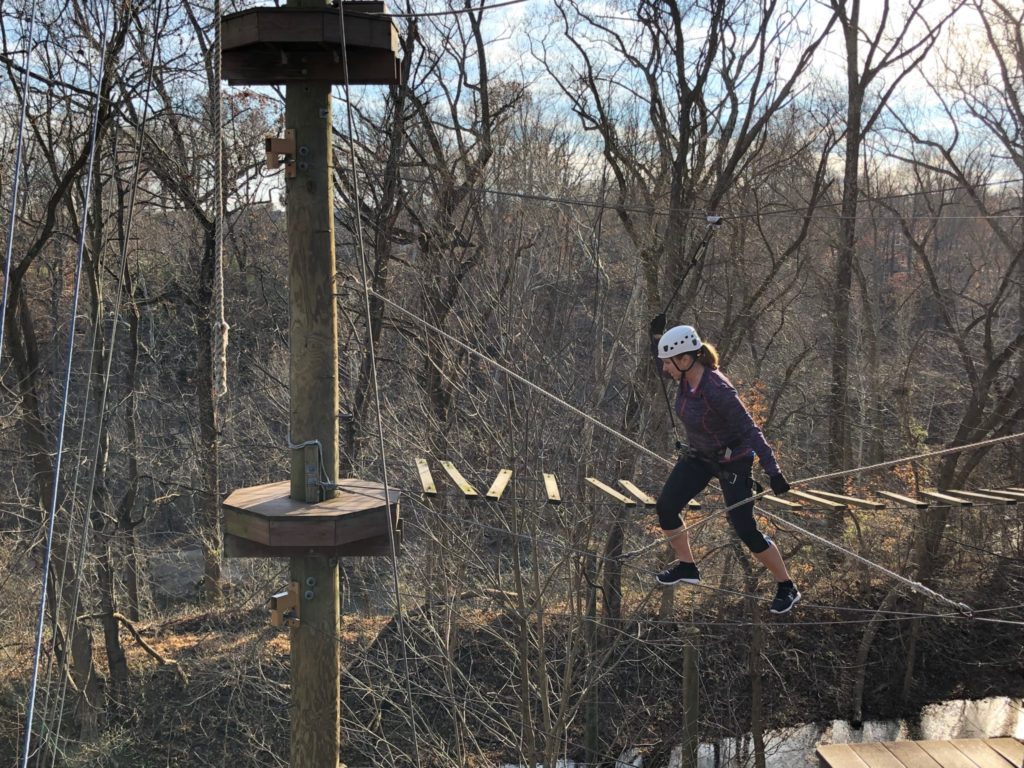 Others benefits include:
Outdoor Exercise:

"Training outside provides a change of scenery from a sweaty, bustling gym to a technology-free zone; not to mention far more challenging terrain," says Mark Barroso,

Men's Journal

. 

Fresh Air

: Exercising in nature has also been shown to reduce stress and improve results. Fresh air has been shown to help digest food more effectively, improve blood pressure and heart rate, and strengthen the immune system, leading to a healthier you. "Time spent in outdoor recreation leads to a range of benefits, from reduced obesity rates to strengthened family ties," according to Robert Manning, professor of recreation management at the University of Vermont. And, quite frankly, it's more enjoyable.

Avoid Crowds:

Gyms can be rather cramped, especially during peak season – the New Year's resolution rush in early January, and the quest for the perfect beach body in mid-spring. With outdoor workouts, "there's plenty of room to sprint, throw, and explore your inner athlete," says Barroso.

Hit Different Muscles:

Trying new outdoor workouts is a great way to switch up your workouts.

"You'll not only boost your calorie burn, you'll hit muscles you'd never reach on your beloved machines," says Lauren Passell, Fitness Magazine.

Problem Solving:

Climbing, in particular, has been scientifically proven to help improve problem solving. It's a great mental exercise, as well as physical. "I think the mental benefits of climbing are a bit more subtle [than the physical ones], and I'm sure they're different for everyone," says professional climber Alex Honnold. "But I think it's a very empowering sport." Climbing is like a puzzle. How do I get from point A to point B in the most efficient way? Climbing requires a tremendous amount of patience, planning, and analysis.

Socialization:

The challenge course and climbing tower are also a great way to meet new, like-minded people. You may even find a new workout buddy!
More Fun Tips to Keep Your New Year's Resolution
Keep it Attainable:

Make sure your goal is both tangible and attainable. "Vague goals beget vague resolutions," says John Norcross of the University of Scranton. Start small, set realistic goals, and then expand upon those goals.

Start Small:

"One of the biggest mistakes people make is going all-in on the first week of the year," says Kris Cueva, CPT, master instructor at Burn 60 Studios. If you haven't exercised in a while, start small and pace yourself. Putting on your sneakers and running for 10 minutes is a big deal, and something you can build from as you go. The important thing is to just start and keep going. 

Bite-Size Goals:

Psychologist Lynn Bufka recommends setting "small, attainable goals throughout the year, rather than a singular, overwhelming goal." So, break up that BIG goal into tiny bite-size portions. If you want to lose 20 pounds in 2020, try to lose 2 pounds each month. Not only does this help make the overarching goal seem more manageable, but it also allows you to celebrate your "small" victories each month!

Brag:

Nothing can help keep you motivated more than bragging to your friends and receiving praise in return. And that's exactly what social media is for, right? So, post updates about your resolution. Post fun photos. And enjoy the comments from your friends.

Adjust Your Goal:

Don't be too stubborn. Sometimes, your goal needs to be tweaked or adjusted a bit. And that's okay! "Instead of throwing in the towel, figure out how you can make some tweaks to get back on track," says Healthy Nurse, Healthy Nation (HNHN).
Get Started with Terrapin Adventures!
"Time spent in outdoor recreation leads to a range of benefits, from reduced obesity rates to strengthened family ties," says Robert Manning, professor of recreation management at the University of Vermont.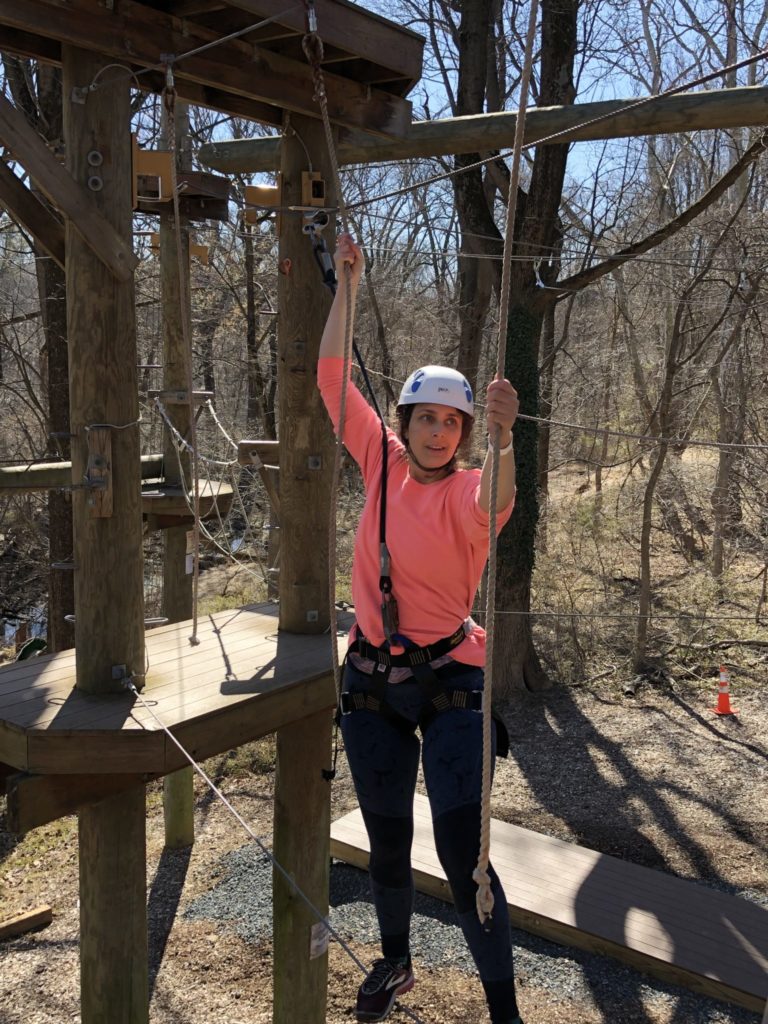 Visit us at Terrapin Adventures to soar through the air, defy gravity, and enjoy our many Outdoor Adventures! We offer several guided tours and outdoor activities, such as biking, backpacking, kayaking, and geocaching, just to name a few. Activities levels range from easy to moderate, so there is something for everyone! And we are great with beginners.
If you have any questions, please call Terrapin Adventure at 301.725.1313, or email us at info@terrapinadventures.com to learn more.