Bike Trips / Bike Rental
Enjoy a variety of Bike Trips we have listed below or ask us about a trip tailored just for you or your group. TA employs comfortable mountain bikes with front shocks, comfortable seats, and high-quality components. We have an onsite mechanic to help maintain our bikes in good working order. TA requires guests to wear helmets (which we supply) on our tours.  We teach you the basics of bike riding including shifting gears, braking safely and rules of the road before starting your tour.
Bike, Wine & Brew: Activity Level: Easy
You will enjoy a 12-mile easy ride following the Little Patuxent River when you ride our comfortable mountain bikes on paved paths. We often see wildlife a long the way. The group arrives at beautiful Lake Elkhorn and then bikes the 2 miles around the lake. We take a refreshing fruit break before heading back to enjoy wine or beer, cheese, and French bread on the grass at our base camp or outside on the deck at Savage Mill.  Take home fond memories, the great feeling of accomplishment and a complementary water bottle.
A guide, a personally fitted bike, a helmet, food, and drink & water bottle. The 3 Hour tour is $59.00. Must be at least 5 ft. tall and 21 years old. Subject to minimum number of participants. 

2017 Bike and Brew Dates:  4/23, 5/13, 6/4, 7/15, 8/6. 9/16, 10/8  or Call us to design a private party with four or more participants.
Bike Rentals: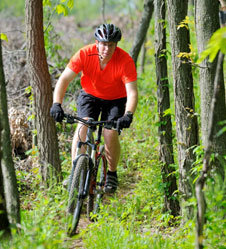 Prefer to go at your own pace? Take our bikes and a picnic on a self-guided tour on the Patuxent Ridge Trail or create your own ride. Round trip is only 12 miles.
Call (301) 725-1313 for availability. $39 for a 2-hour rental, $49 for a 1/2 day (4 hrs) or $69 for a full day (8 hrs). Refundable security deposit of $400 per bike required.
Read about our other trips & tours!
Kayak Trips | Geocaching | Guided Backpacking Trips | Caving | River Tubing | Outdoor Rock Climbing | Indoor Rock Climbing