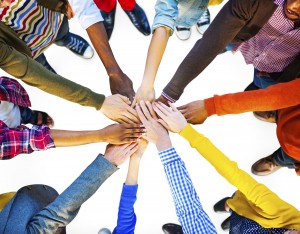 American poet Mattie Stepanek once said, "Unity is strength… when there is teamwork and collaboration, wonderful things can be achieved."
The average American adult employed full time works 47 hours per week, according to a Gallup poll, and four in 10 workers put in over 50 hours each week. So, it's important to like what you do and who you work with. According to the Gallup Organization, workers who identify coworkers as friends (or even best friends) are seven times more likely to be engaged in their jobs. They are more likely to be satisfied and productive.
"Clearly, building meaningful relationships in the office can have a positive impact on job satisfaction and, as a result, success," says Andre Lavoie, CEO of ClearCompany.
Human beings are naturally social creatures that crave friendship and positive interactions. But these relationships must be forged and nurtured. The question is how?
How to Build Strong Relationships
Below, we have outlined the three key building blocks of any good relationship – trust, communication, and collaboration.
Trust
Scottish author and poet George MacDonald once said "To be trusted is a greater compliment than being loved."
It all starts with trust. If you do not trust the person next to you, what kind of relationship is that really? Without trust you have nothing. Trust is essential to an effective relationship, an effective team, and an effective business. We must trust our co-workers, our teammates. We must trust that they will do their jobs. We must trust that they will pull their own weight and add value to the team. Unfortunately, building trust is not always easy. As theologian Isaac Watts once said, "Learning to trust is one of life's most difficult tasks." Trust must be earned. And until we have a solid foundation of trust, we can never truly build a meaningful relationship.
Communication
"The general consensus of the executives was that effective communication skills are more important now than ever before for business success," say researchers James Bennet and Robert Olney, "and these skills will continue to be a critical component of the information society." In 2009, Watson Wyatt , Inc., a global consulting firm, reported that companies which communicated effectively had a 47% higher return to shareholders between 2004 and 2009. In this report, the Watson Wyatt noted that "Effective internal communications can keep employees engaged in the business and help companies retain key talent, provide consistent value to customers, and deliver superior financial performance to shareholders." But on a much more personal level, communication is what fuels individual relationships. This is just as true in business as it is in our personal lives. Open and honest communication is important.
Collaboration
The Merriam-Webster Dictionary defines Collaboration as the ability "to work with another person or group in order to achieve or do something." In other words, collaboration is teamwork. It's the final product of any good relationship. Collaboration is a good working relationship in action!
According to the Cisco Collaboration Work Practice Study, a qualitative, ethnographic, global research study of collaboration at Cisco, an American multinational technology company, "Working together and having multifaceted perspectives trumps working alone and often leads to idea propagation."
As one participant in the study put it, "Collaboration is the bundling of experiences. Sharing the expertise and being able to leverage the experience of many people gives you diversity, and different views. It sums up to more than if you do it on your own."
According to "18 Statistics About Company Culture You Can't Afford To Ignore,"companies with engaged employees outperform those without by up to 202%.
Relationships are not formed overnight. They are not formed by sheer will. They take actual work. What he was referring to is experiential learning. Humans learn better by doing. In 1938, John Dewey wrote that "there is an intimate and necessary relation between the processes of actual experience and education." So instead of lecturing your employees on the value of good working relationships, get out of the office and show them the benefits of teamwork. This is where team building comes into play.
"Instead of struggling through team-building activities, people who want to form meaningful relationships in the office take advantage of the opportunity to learn more about their colleagues," says Lavoie.
How Team Building Builds Trust & Good Working Relationships
Team building seeks to first build trust among your team members. A 2010 study conducted by research Jenny Phan tested this notion with a particular emphasis on challenge courses. Phan evaluated and tested the benefits of these activities on 120 subjects – 104 stated that the activities had some type of an impact on their ability to TRUST their fellow participants, 79 believed challenge course activities helped them overcome fear, 76 noted a positive impact on self-esteem, 97 confidence, 83 empathy, 75 ease of stress, and 94 noted a positive outlook on life after their afternoon on the challenge course.
"From the data, it shows that placing the participants in challenging situations does increase their trust level with themselves and others," says Phan.
Once trust is established, team building attempts to establish open and effective communication, and finally collaboration. According to Phan, challenge courses and team building activities "impacted the participants at an emotional and social level," and most participants saw a noticeable increase in their "emotional and social skills."
"Building strong interpersonal relationships within your team creates a work environment that is more conducive to working together and getting things done," writes Joel Garfinkle.
Conveniently located between Baltimore and Washington DC, Terrapin Adventures is able to create a customized team building programs (onsite or offsite, indoor or outdoor) to help better your business. Presented in a fun and creative way, team building exercises challenge your group to step out of their comfort zones and encourage them to work together to solve certain tasks. These simple exercises help break down communication barriers and foster trust, which will, in turn, help promote teamwork and collaboration.
After each team building exercise, your group will sit down with their facilitator to discuss the lessons behind each activity and how they translate to the business world. This discussion is designed to reinforce these lessons and help ensure that the progress made during your team building outing sticks.
If you have any questions, please call Terrapin Adventure at 301.725.1313, or email us at info@terrapinadventures.com to learn more.
Works Cited
Lavoie, Andre. "How to Build Meaningful Relationships in the Workplace." Entrepreneur. N.p., 01 Sept. 2015. Web. 23 Mar. 2017.

"THE IMPORTANCE OF UNITY IN TEAM SUCCESS." Addocura. N.p., 4 Nov. 2015. Web.

Glaze, Sean. "Two Main Ingredients That Create Team Unity." Two Main Ingredients That Create Team Unity. Association for Talent Development, 30 July 2013. Web. 10 Oct. 2016.

Bennett, J. C., and R. J. Olney. "Executive Priorities for Effective Communication in an Information Society." Journal of Business Communication 23.2 (1986): 13-22. Web.

Omuya, Jacqueline M., David M. Kungu, Leonard S. Mulongo, and Dedan O. Ong'anya. "Effects of Team Building on the Performance of Employees in Organizations towards the Realization of Millennium Development Goals: A Survey of Selected Banks in Eldoret Town."International Journal of Current Research. Web.

Phan, Jenny. "The Impact of Therapeutic Recreation through Ropes Courses and Teambuilding Activities." Diss. 2011. Abstract. Print.

"Building Great Work Relationships: Making Work Enjoyable and Productive." From MindTools.com. N.p., n.d. Web. 23 Mar. 2017.

Garfinkle, Joel. "6 Strategies to Building a Stronger Team." Garfinkle Executive Coaching. N.p., n.d. Web. 23 Mar. 2017.