Here at Terrapin Adventures, we are very proud of our guides and team building facilitators, so we decided it was high time that we shone the spotlight on a few of our great guides, our fantastic facilitators, our energetic employees, our…well, you get the idea. These are the people responsible for providing a safe, thrilling, memorable, and meaningful experience for all of our guests. Our staff is not only chosen for their technical skills, but also their love of the outdoors and ability to make your time with us memorable and entertaining.
Getting to Know Simon Litz: Guide & Team Building Facilitator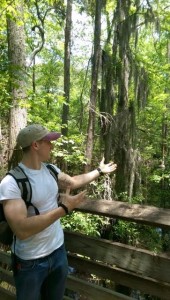 As an Environmental Science major, Simon has spent much of his life camping, kayaking, canoeing, hiking, and climbing trees. He has even tried his hand at mountain/forest runs. What is special is that he does this barefoot. So a life as an adventure guide seemed like a natural transition. Simon loves the outdoors and he loves sharing his experiences and knowledge with Terrapin Adventures guests.
Simon's enthusiasm and outgoing nature also make him an excellent team building facilitator. He has a knack for finding new and fun ways to teach groups how to work together while learning about each other in a fun and interactive way. Simon and the rest of our experienced team of facilitators are able to create a customized program that exceeds your requirements to help increase communication and productivity of your group.
In his free time, Simon enjoys weight lifting, practicing self-defense, and trying new outdoor activities. He also has a mutation that changes his eye color. So, don't be alarmed if Simon looks a little different every time you visit Terrapin Adventures…or even while you are here!
Favorite Team Building Exercise:
Simon loves it when team building guests come together and get over their initial shyness to reveal themselves and develop a real rapport with one another, cracking inside jokes and working as a team. This is why Simon's favorite team building activity is The Grid. Every group starts out very frustrated, but by the end of the exercise it all comes together as the group pushes through and completes the task.
Visit Simon and the Rest of the Terrapin Adventures Crew for Some Fun & Excitement!
Conveniently located in Howard County, Maryland, between Baltimore and Washington DC, Terrapin Adventures is all about fun! In fact, you may say that we are on the cutting edge of fun. We have created a new realm of aerial adventures using only wood, rope and cable. Our high ropes course, which takes you up to 40 ft. in the air, and our Terrapin Explorer kids' course, designed for children ages 5-10, provide hours of fun as you walk, balance, swing, zip, climb, and crawl your way through each unique element. Even our team building events are packed with some serious fun!
Visit us to soar through the air, defy gravity, and enjoy Outdoor Adventures as you learn a little bit more about yourself and those around you! Whether you're interested in Team Building activities for your group, a Birthday Adventure Party, or a fun day with family or friends – we can make sure you get your fill of thrills!
If you have any questions, please call Terrapin Adventure at 301.725.1313, or email us at info@terrapinadventures.com to learn more.