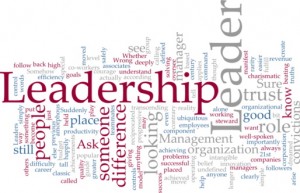 Leadership
\ˈlē-dər-ˌship\
noun
the action of leading a group of people or an organization.

the state or position of being a leader.

the power or ability to lead other people
Leadership can take many forms and it can mean different thing to different people. To Snuggwugg CEO Lisa Cash, leadership is the "ability to guide others without force into a direction or decision that leaves them still feeling empowered and accomplished."1 To the CEO and founder of Talk Fusion, Bob Reina, "Leadership is about having a selfless heart and always being willing to reach out and lend a helping hand." And to interior designer Katie Easley, founder of Kate Ryan Design, leadership means"Stepping out of your comfort zone and taking risk to create reward."
At the end of the day, there is no one way to define leadership, because there are many ways to lead. But one thing is for certain – leadership is not an inherent quality. It is learned! "Leadership is not a personality style; it is a learned set of skills attained through development opportunities that are integrated to a lifestyle of learning," says researcher Katherine T. Whitnah.2
How to Become a Better Leader
As American psychologist, philosopher, and educational reformer John Dewey once famously said, "there is an intimate and necessary relation between the processes of actual experience and education." It's what's known as experiential learning and it is the basis of the challenge course experience. Through this experiential learning process, leaders learn how to trust the members of their team in their individual roles. Leaders learn how to communicate clearly and effectively using a feedback loop. Leaders learn how to balance differing points of views during the problem solving process, and learn how to align team members in a meaningful way to achieve team goals.
Challenge courses got their start in 1941 as a military tools to train soldiers, and can be characterized as either low or high ropes courses, according to authors Catherine M. Tait, Don Rogers, Karl E. Rohnke, Jim B. Wall, who wrote "The Complete Ropes Course Manual." 3  Low challenge courses are activities that require spotting (spotters) and typically focus on collaboration, communication, and problem solving, while high challenge courses are those requiring belaying and focus on building trust and learning to focus in chaotic situations. Both low and high ropes courses have proven to be effective tools in leadership development.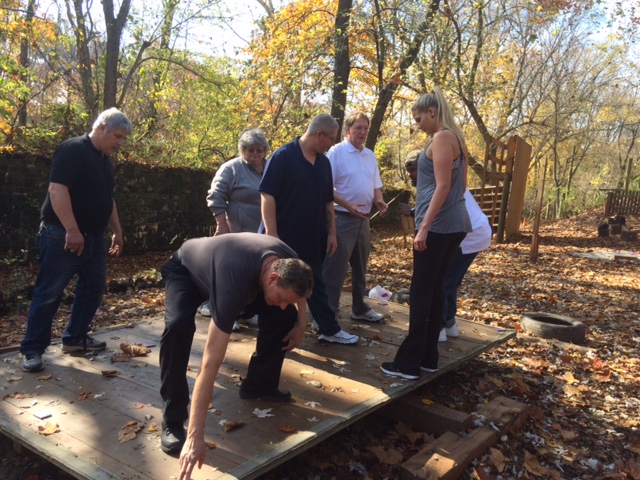 Researchers Theresa Odello, Eddie Hill, and Edwin Gómez write "Data support[s] the notion that participation in a four-hour challenge course significantly increases the participants' levels of leadership and work efficacy" and that "results were significant" and longlasting.4 Odello, Hill, and Gomez measured leadership and work efficacy levels pre-challenge course, immediately post challenge course, and six weeks after.
"The results of this research demonstrate that programs are making a direct impact on the participants' efficacy," say researchers.
Terrapin Adventures Can Help Make You a Better Leader!
"In the same way that naturally occurring events create changes for an organization, an organization has the ability to create a team building event that contributes to a culture of dynamic leaders who naturally adapt and respond to change," writes Whitnah. "As a result, organizations attain their goal of an inspired climate of learning that delivers ongoing and possibly accelerated, leadership development for individuals, teams, and the organization as a whole."
At Terrapin Adventures, we can help you and your team become better leaders through a series of exciting and carefully designed Corporate Team Building activities. Each activity is led by one of our experienced facilitators, who will not only help guide your experience, but also tie the lessons back into the workplace. We do this during our debriefing sessions, where we sit down and discuss what we have just done and how the lessons can be applied in our everyday lives.
"We appreciate the opportunity for this adventure. Throughout the full experience, your facilitators were professional and supportive. They allowed us to be creative and fun our own way. At the end of the day, the importance of leadership, openness, trust, and creativity among the team shined through."
John Cave, Director Supplier Management, Boeing
"Our students had an amazing time at the ropes course.  The course helped our group of students, who only met each other the night before, become a team.  As a leadership conference, we schedule this course as our first team-building event…and Terrapin never fails to deliver.  The facilitators took the time to understand our organization, our programs and our goals for the students and then designed debriefs for each event that emphasized the leadership skills we aim to develop.  The students enjoyed each event, from low ropes activities to the amazing zip-line.  They were wowed from the moment our buses arrived.  The facility is up-to-date, clean and offers enough options to handle groups of all sizes.  We would love to thank all the group facilitators and Terrapin's director for helping us with another successful summer!"
Susan E. Woolf, Director of Operations, D.C. Programs, National Student Leadership Conference
Our convenient facility located between Baltimore and Washington, DC is uniquely suited to provide a Team Building solution for any company. In addition, we can bring our Team Building Programs to you! We service Maryland and Washington, D.C., and have traveled to other states as well.
If you have any questions, please call Terrapin Adventure at 301.725.1313, or email us at info@terrapinadventures.com to learn more.
Works Cited:
Helmrich, Brittney. "33 Ways to Define Leadership." Business News Daily (2016): n. pag. Web.

Whitnah, Katherine T. A Phenomenological Inquiry: In the Context of Organizational Development, How Does Experiential Team Building in the Form of a High ROPES Course, Contribute to Positive Leadership Development, and How Can It Be Improved? Adler Graduate School. Web.

Rohnke, Karl, Catherine M. Tait, Jim B. Wall, and Jim B. Wall. The Complete Ropes Course Manual. Dubuque, IA: Kendall/Hunt Pub., 1997. Print.

Odello, Theresa, Eddie Hill, Suny Cortland, and Edwin Gomez. "Challenge Course Effectiveness: The Impact on Leadership Efficacy and Work Efficacy among College Students." Journal of Unconventional Parks, Tourism & Recreation Research 1.1 (2008): 18-22. Web.