By Matt Baker, Chief Adventure Officer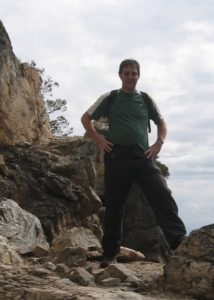 At Terrapin Adventures, we practice what we preach. We truly love spending time outdoors! During a time of social distancing, we wanted to share stories of adventure from our own lives. Enjoy!
This is the first installment of our Staff Story Time Series.
---
Hiking Up Mt. Katahdin
Having grown up in New England, I spent a lot of time hiking in Maine, New Hampshire, Vermont, Massachusetts, and Connecticut. I find time to think and enjoy all that nature has to offer.  A few years ago (just a few), my friends and I decided to tackle the northernmost part of the Appalachian Trail.
This section of the Appalachian Trail (AT) lies within Baxter State Park, in Maine. This beautiful park contains many trails, black bears, impressive moose, and "The Knife's Edge". The Knife's Edge is an alpine trail between Baxter and Pamola Peak on Mount Katahdin which rises to 5,267 feet!
To give you a better visual, watch this video from some recent Knife's Edge hikers. When I did this in the 1980's, there were no cell phones and Go Pros weren't invented yet!
As many will say, hiking the AT is a journey, not a destination. We spent a couple of days camping — seeing wonderful views and animals — and reconnecting with each other. After a strenuous hike up the Helon Taylor trail, we made it to Pamola peak. Hiking above the tree-line is equally awe-inspiring as it is a great leg workout! As we were preparing to cross the Knife's Edge to Baxter peak, a big thunderstorm rolled in. Ponchos were treated like flimsy toys. High winds and horizontal rain ferociously whipped at us, making visibility poor and footing precarious. The scariest part; the frequent lightning!
With nowhere to hide, we sought refuge under whatever rocks we could find as lighting & thunder cracked all around us. Now, what makes Knife's Edge exciting is that the trail is only about 6-feet wide. In order to traverse this section, you have to scramble over rocks and boulders, above tree-line, with a 1,500-foot drop off on either side. Really puts the "awe" in awesome!
After getting pelted for about 20 minutes in scary conditions, we weighed our options, including waiting it out, crossing, or returning below the tree-line. We didn't let our egos and youthful vigor block us from seeing the obvious dangers. We made the correct (and safe) call to hike back down below the tree-line, being wary of the slippery footing.
We were certainly disappointed. Hiking the Knife's Edge is a bucket list item for hikers of the AT.   We took our time. We talked it out and were able to reach a consensus to make a sound decision.
On the way down below the tree-line, we stopped to look at a lower elevation pond and noticed these brown trails in the water. We soon realized that these trails were caused by moose eating the underwater vegetation. We made it down after a couple hours and were treated to a great view of the a couple of moose chomping on the water vegetation (this video is not the actual moose we saw, but looks similar. Besides, who doesn't like videos of animals!).
Once we got back to the campsite, we warmed up in our sleeping bags and enjoyed a much-needed nap by the campfire.  
---
Tackle Your Own Mt. Katahdin
At Terrapin Adventures we are all about adventure! While not everyone can hike the Appalachian Trail, we encourage people to get outside, once it is safe to do so, and consider one the outdoor adventures at Terrapin Adventures.
Our customized team building programs provide groups with challenges that they have to overcome and harness the power of collaboration to solve. It may not be as adrenaline-pumping as hiking the AT on Mount Katahdin, but it can certainly provide insight into how your team works together — just in case you have to make your own Knife's Edge-in-a-thunderstorm decision.