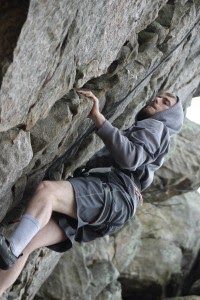 By Brett Self, Operations Manager
At Terrapin Adventures, we practice what we preach. We truly love spending time outdoors! During a time of social distancing, we wanted to share stories of adventure from our own lives. Enjoy!
Staff Story Time Series:
---
Dealing with Fear and the Unknown
In 2012, I took part in the famous Running of the Bulls, in Pamplona, Spain. Hands down, the scariest and coolest thing I have ever done!
I was backpacking through Europe for a few weeks, with three childhood friends. We had planned this trip as a way to reconnect with one another, see world-class art and historic sites. And, of course, we couldn't pass up the opportunity to do something fun and foolish!
The day starts pre-dawn, with everyone dressed in white, from head to toe. Thousands of people gather within the city — locals and tourists alike — packed like sardines. Just at the point when you don't think any more people could fit, one person with a megaphone gives a warning, and fires off a shot from the starter gun.
A month prior to this moment, we devised ourselves a plan. The idea was to stick together. Safety in numbers, right? 
After trekking halfway across the city for coffee, then doubling back — because my friends lied about being able to read a map — we get into the "Pen" in the town square. The Pen consists of a couple of city blocks, where all the runners meet up before-hand.
About 40 minutes before the start, we were given instructions and shown how to escape the run, if you found yourself in trouble. We looked around at one another, equally scared and excited. We pumped each other up. All that planning and now we were definitely ready…or so we thought.
*BANG!*
Are those hoov——— RUUUUUUUUUUUUUUUUN!
We ran. Although we had planned to stay together, we lost one another, pretty much instantly, in a sea of shouting bodies. As the bulls charged down the streets, runners had to dodge and duck and dip and dive and dodge to avoid the massive animals.
At one point, a bull whips around the corner. As it barrels down the street, I narrowly escape, but not unscathed. The muscular bull knocks me into the side of a building, providing me with a souvenir in the form of a huge bruise.
Knocked over, I got up again and told myself to "just…keep…running. MOVE!"
I have no idea where my friends are, at this point. I've only been in this city for a few hours, yet I'm forced to run the streets, alone. After a little while, searching for some sort of direction, I see the finish line! What a rush, simply unbelievable!
The run through the city stops as you are directed into a stadium, where the bull whisperers corral the animals through a second entrance. The chaos of the run behind us, we luckily found each other, soon after entering the stadium. Everyone in our group made it through the actual running portion safely and, quite surprisingly, without incident. The actual run is less than 2 kilometers. We finished in under 30 minutes.
Having spent so much of our pre-trip planning on the major events and sites we wanted to visit, we had skimped on the details. After surviving that ordeal, we still had to trudge back to the apartment, clean ourselves and the room, pack up, and then trudge to the train station while wearing a full pack — 50 pounds of our stuff — still sore and exhausted from running away from, not really with, angry bulls.
Looking back, I think about the day and how prepared I thought I was. We all thought we were ready. WHY? What on Earth made me think I was ready to do something so extreme? And then HOW? How could we have actually believed we were "ready" to undertake such an event. We had planned this out for months beforehand. Somehow, we thought we were ready, but there's nothing you can do to truly prepare for the exhilarating madness.
---
Planning for Chaos
Our experience, Running with the Bulls, could have been improved had our group gone through some Team Building beforehand. Team Building provides a team a chance to delve into their decision-making process. 
How was our plan derived? Was it based on prior knowledge or bravado?
Was everyone on board with the plan? What to do if the plan did not work — did we have a contingency plan? How comfortable were we in a high-risk situation?  
Most projects and jobs are much less dangerous than my adventure in Spain, but if teams don't perform to their ability, there are negative consequences for individuals and the team. Fleshing out ideas, listening to different points of view, tends to produce positive outcomes. Anticipating bottlenecks and problems allow teams to pivot, in real-time, and reach their potential.
---
How Terrapin Adventures Helps
At Terrapin Adventures we're all about adventure! While not everyone wants to run with the bulls, we encourage people to get outside — once it is safe to do so — and consider one the great Outdoor Adventures at Terrapin Adventures.
Our customized team building programs provide groups with challenges that they have to plan, communicate and develop contingency plans as teams overcome fear and inertia to collaborate. It may not be as adrenaline-pumping as running with the bulls, but it can certainly provide insight into how your team works together — and how they perform under pressure.