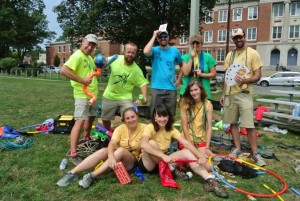 According to the Business Dictionary, motivation can be defined as "Internal and external factors that stimulate desire and energy in people to be continually interested and committed to a job, role or subject, or to make an effort to attain a goal." That much is pretty straight forward. What is difficult for employers is figuring out how to motivate their employees.
How to Motivate Your Team
"In about 85 percent of companies, our research finds, employees' morale sharply declines after their first six months—and continues to deteriorate for years afterward," writes researchers David Sirota, Louis A. Mischkind, and Michael Irwin Meltzer. This data is based on surveys of more than 1.2 million employees conducted by Sirota Survey Intelligence at 52 primarily Fortune 1000 companies from 2001 through 2004.
So, how do you ensure your employees stay engaged and works remains at a high level? How do you keep your employees motivated? Here are a few tips:
Walk a Mile in Your Employees' Shoes
As an employer, it is important to look at things from the employee's perspective and realize that they are most likely not in the same place you are, whether professionally, financially, or even personally. It is important to be able to empathize with your employees. According to a 2012 study published in the Academy of Management Journal, leader humility is associated with positive outcomes. Humble leaders have more learning-oriented teams, more engaged employees, and lower turnover rates.
Communication is Important
An Ohio State University study found that "feelings of being in on things" was the seventh most important factor in motivating employees. Open and honest communication across all business levels is critically important. In 2009, Watson Wyatt , Inc., a global consulting firm, reported that companies which communicated effectively had a 47% higher return to shareholders between 2004 and 2009. In this report, the Watson Wyatt noted that "Effective internal communications can keep employees engaged in the business and help companies retain key talent, provide consistent value to customers, and deliver superior financial performance to shareholders." Conversely, according to Talent Management, 86% of employees blame lack of collaboration (just another word for communication and teamwork) for workplace failures.
Set Goals & Define Success
It all starts by setting attainable goals – expectations.
"Once a team is created and its composition is established, the next team leadership function is to define the team's mission," write researchers Frederick P. Morgeson, D. Scott DeRue, and Elizabeth P. Karam. "This involves determining and communicating the organization's performance expectations for the team in such a way that they are broken down into tangible, comprehensible pieces."
And when team members actively participate in the goal setting process, the team is more committed to team goals, achieving greater efficiency and overall performance, suggest researchers.
Show Appreciation
Overall, more than one in five (21 percent) working Americans said they do not feel valued by their employers. However, research from the American Psychological Association (APA) suggests that showing your employees that they are appreciated is a simple way to boost productivity. According to the study, "Almost all employees (93 percent) who reported feeling valued said that they are motivated to do their best at work and 88 percent reported feeling engaged. This compares to just 33 percent and 38 percent, respectively, of those who said they do not feel valued."
There are several ways to show appreciation. It could be as simple as recognizing a job well done, or it could come in the form of monetary bonuses. It could mean the potential for professional growth and work advancement, or even a more flexible work schedule (work-life balance). It is really up to you and finding a method of appreciation that resonates with your employees.
Relieve Stress
Two out of five (41 percent) employees report feeling tense or stressed out during the workday, according to the APA. The most common causes for work-related stress include:
Low salaries (46 percent)

Lack of opportunities for growth or advancement (41 percent)

Too heavy a workload (41 percent)

Long hours (37 percent)

Unclear job expectations (35 percent)
In order to combat work-related stress and ensure your employees are happy and motivated to perform their best work, it is up to you to "create a healthy culture where employees and the organization can thrive," says the APA.
"The business world is in the midst of a sea change," says David W. Ballard, PsyD, MBA, head of APA's Psychologically Healthy Workplace Program. "Successful organizations have learned that high performance and sustainable results require attention to the relationships among employee, organization, customer and community."
Furthermore, forward-thinking employers are "taking steps to create a positive organizational culture where employees feel valued and, in turn, help drive bottom-line results," adds Ballard.
Get Out of the Office
Ballard identified five motivational activities shown to be successful time and time again. These are: volunteering, physical activity, field trips, professional development, and shared meals. Now, we can think of a single activity that hits on almost all of those points. Can you guess what we are talking about? Team building, of course!
"An entire industry has grown around corporate team-building programs, from ropes courses, wilderness programs, and paintball to ice breakers, trust exercises, and coaching sessions based on questionable personality tests," says Ballard.
A day at Terrapin Adventures is a great way to get out of the office, get some exercise, and do something meaningful that will not only show your employees that you care, but also help motivate them to work harder and, thus, boosting productivity. It's what we like to call a win-win!
Conveniently located between Baltimore and Washington DC, Terrapin Adventures is able to create a customized team building program (onsite or offsite, indoor or outdoor) to help better your business. Our team building programs are designed to meet the individual needs of every organization we work with, challenging groups to break down communication barriers and work together to grow as a team.
After each exercise, your group will sit down with their facilitator to discuss the lessons behind each activity and how they translate to the business world. This discussion is designed to reinforce these lessons and help ensure that the progress made during your team building outing sticks.
If you have any questions, please call Terrapin Adventure at 301.725.1313, or email us at info@terrapinadventures.com to learn more.
Works Cited
"APA Survey Finds Feeling Valued at Work Linked to Well-Being and Performance." American Psychological Association. N.p., 8 Mar. 2012. Web. 27 Jan. 2017.

Harper, Jessica. "The 5 Best Bonding Outings for Co-Workers." U.S. News & World Report. N.p., 23 Aug. 2012. Web.

Sirota, David, Louis A. Mischkind, and Michael Irwin Meltzer. "Why Your Employees Are Losing Motivation." HBS Working Knowledge. Harvard Business School, 10 Apr. 2006. Web. 27 Jan. 2017.

Morgeson, F. P., D. S. Derue, and E. P. Karam. "Leadership in Teams: A Functional Approach to Understanding Leadership Structures and Processes." Journal of Management 36.1 (2009): 5-39. Web.

Lindner, James. "Understanding Employee Motivation." Journal of Extension 36.3 (1998): n. pag. Web.