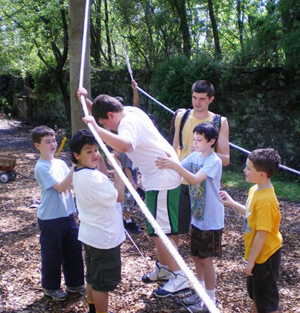 Is your child getting enough exercise? The National Association for Sport and Physical Education (NASPE) recommends children receive at least one hour of physical activity every day:
Toddlers:  30 minutes planned physical activity AND 60 minutes of free play
Preschoolers: 60 minutes planned physical activity AND 60 minutes of free play
School-Age: One hour broken up into bouts of 15 minutes or more
"Physical activity and sports are generally promoted for their positive effect on children's physical health," writes Dr. Amika Singh. "There is also a growing body of literature suggesting that physical activity has beneficial effects on several mental health outcomes, including health-related quality of life and better mood states," as well as "enhancement of brain function and cognition, thereby positively influencing academic performance."
Tips to Help Promote Exercise
Make it Fun
"One of the main problems is that people associate exercise with a gym or equipment," says Dr. Marc Tinsley. "I tell people to think 'outside the barbell.' Fitness isn't about sweat, six-packs, and sex appeal; it's about having enough energy to do your activities of daily living safely and effectively."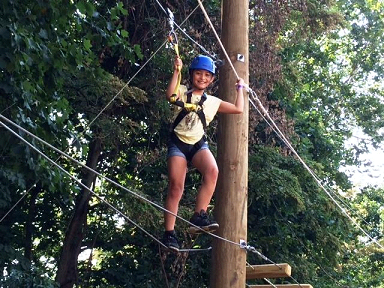 Conveniently located in Howard County, Maryland, between Baltimore and Washington DC, Terrapin Adventures has ropes course specifically designed for children ages 5-10 – our  Terrapin Explorer kids' course. With 22 different fun elements, the Terrapin Explorer lets kids walk, balance, swing, zip, and crawl as they get the physical activity they need.
"Once limited to corporate and camper bonding, ropes courses have recently become a walk-in-friendly option for anyone seeking a heightened exercise experience," writes Washington Post author Vicky Hallett. "Although you must be reasonably active to be able to do such things, the idea is that the ropes courses are accessible to almost anyone who's willing to cling and scamper. As long as you're old enough and tall enough and can handle light exertion, you'll survive."
Make it a Family Affair
"Parents who exercise with their children are not only teaching them how to live a healthy lifestyle, they are also reinforcing the family bonds and creating wonderful family traditions," says Pam Howard, certified health coach and mother of two.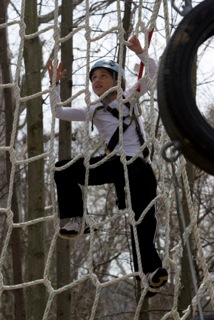 So make exercise a family affair. Terrapin Adventures features the ultimate challenge course for older children, teens and adults, with three levels taking you up to 40 ft. in the air! Each of our 19 traverses is designed to entertain and challenge participants. But what makes our ropes course truly unique is our continuous belay system. You only have to secure your safety line once for each level, letting you focus on your next challenge with confidence.
"The elements produce powerful memories and provoke deep thoughts and emotions, while challenging physical abilities," write Brent D. Wolfe and Diane M. Samdahl.
If you have any questions, please call Terrapin Adventure at 301.725.1313, or email us at info@terrapinadventures.com to learn more.
Works Cited
"Kids and Exercise." KidsHealth. The Nemours Foundation, n.d. Web. 20 Jan. 2017.
Singh, Amika. "Physical Activity and Performance at School." Archives of Pediatrics & Adolescent Medicine 166.1 (2012): 49. Web.
Saunders, Len. "Encouraging Family Fitness & Healthy Habits." PBS. PBS Parents, n.d. Web. 28 July 2016.
Wolfe, B. D., and D. M. Samdahl. "Challenging Assumptions: Examining Fundamental Beliefs That Shape Challenge Course Programming and Research."Journal of Experiential Education 28.1 (2005): 25-43. Web.
Hallett, Vicky. "Learning the Ropes Can Teach You about Yourself." The Washington Post. N.p., 22 July 2010. Web. 2016.