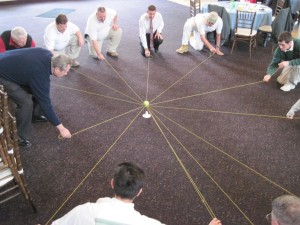 Team work is an often overlooked aspect of business, especially in larger companies: overlooked, but incredibly important. As Henry Ford once said, "Coming together is a beginning. Keeping together is progress. Working together is success." Unfortunately, believing in the power of team work and getting your employees to buy into the concept are two different things. At times, employees can be hesitant to work with one another, especially when two companies, or even two departments, merge. This is where Corporate Team Building comes into play.
"Alone we can do so little, together we can do so much." – Helen Keller
The Difference between Morale Building and Team Building
The term "team building" has become a buzzword in recent years, with many not fully understanding the concept behind it. There is a difference between morale building and team building. Morale building is designed to…well, boost morale. These activities include company dinners, picnics, and other fun outings. While great for boosting morale, such events do very little to foster a sense of team.
Corporate team building, meanwhile, is designed to bring employees (and employers) together to not only have fun, but also learn to work together in a constructive way. Activities are designed to empower individuals to contribute to a common goal: team work.
"The strength of the team is each individual member. The strength of each member is the team." – Phil Jackson
Corporate Team Building with Terrapin Adventures
Located between Baltimore and Washington DC, Terrapin Adventures is uniquely suited to provide a Team Building solution for any company, both onsite and offsite. You can take advantage of our Adventure Park – Zip Line, Giant Swing, Climbing Tower, low and high ropes courses – or we can come to you.
Serious Team Building partnered with Serious Fun!
Through our highly rated team building experiences our group facilitators and guides will lead your team through unique events, challenges, and trust exercises that will help them think creatively and collaborate with one another. Every team building session is followed by a debriefing where the group facilitators and guides relate the day's team building activities into your group's daily corporate workplace challenges.
Click Here to request a date.
Our experienced staff is able to create a customized program that exceeds your requirements to help increase communication and productivity of your group.
The Benefits of Corporate Team Building
Improved Communication: Communication is a critical aspect of any business. Team building can help foster a sense of trust among employees, spurring better communication among the people in your company.
Increased Morale: When people know and trust the people they work with, morale increases. According to studies, employees with high morale are 89% more likely put in extra effort and extra hours at work.
Better Collaboration: When employees open the lines of communication and feel comfortable with one another, true team work results. And better collaboration means better business.
And Much More!
If you have any questions about Corporate Team Building, please call Terrapin Adventures at 301.725.1313, email us at info@terrapinadventures.com, or fill out the contact form on our website. You can also follow Terrapin Adventures us on Facebook, Twitter, LinkedIn, YouTube, Google+, and Pinterest for up-to-date information on events, trends, and other fun and exciting outdoor activities.