Soaring Heights Package
Terrapin Tower & Zip Line

Our bet is that you can scale all 12 routes up and down our 43 ft. high climbing tower.   This is not your ordinary climbing gym.  The views are great from the top where you can rest and relax under our canopy roof and see the Little Patuxent River as it winds past our course.
The tower has four sides each taking two climbers at one time. We offer two different belay systems depending on your level of expertise. Our auto belay system for climbers just starting out insures you are completely safe as you tackle the challenging ascents and thrilling descents. For the more adventurous, TA has manual belay system we use for the more serious climbing lessons.
Our routes up and down include some that are flat for beginners and an overhang route for more advanced climbers. For more fun we have what we call a vertical playpen with many exciting and challenging elements like the cargo net, rope ladder, climbing log,  firecracker, centipede, and tire/dangle duo that will enhance your climbing experience. For a truly unique descent, climb headfirst down the Rainbow Serpent or descend via the tube net.
Then glide through the forest at up to 20mph on our 330 ft. long zip line as part of your package.  Go forwards or backwards and zip away!
Cost: $45 for up to 1.5 hours of climbing time including climbing pointers from our guides followed by the 330 ft. Zip Line. Must be at least 8 years old, 48 inches tall and weigh between 60 and 275 pounds.Book Now!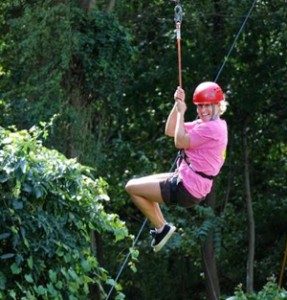 All adventures are led by our well trained serious guides who will help you get the most out of your climbing time.  Harness and helmets are personally fitted before you begin your climb.
If you like you can add a Giant Swing ride or Terrapin Flyer jump for just $10 more at time of check-in
We suggest making a reservation ahead of time to insure their is space.
We love groups and if you have more than 10 people coming, call 301-725-1313 and we can get you a sweet deal. Check out our Facebook page and join our email list for savings on future adventures and tours.
Adventures: Zip Line | Giant Swing | High Ropes Challenge Course
Tours: | Biking | Camping | Caving | Geocaching | Guided Backpacking | Kayaking | Night Hikes | River Tubing | Others