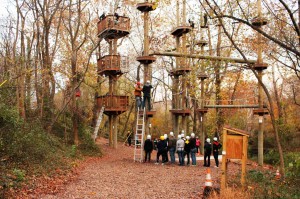 You have probably heard the term "Ropes Course" before. Sometimes called adventure courses, these fun and exciting courses are popular amongst scouts, as well as sports teams and companies looking for team building expertise. And they're everywhere nowadays. According to authors Kathy Haras, Camille J. Bunting, Peter A. Witt, approximately "ten thousand ropes courses exist in schools, camps, therapeutic institutions, and park districts in the United States with about 250 more being built every year."1 Still, many do not know much about these  tools of teamwork – these mysterious marvels of motivation – these action-packed assemblages of adventure. For instance, did you know that ropes courses can be characterized as either low ropes or high ropes?
"Both of these courses deliver different benefits with the same purpose of building trust, leadership skills, communication, and being aware of others and self," explains researcher Jenny Phan.
What is a Low Ropes Course?
Low ropes courses involve activities that "generally focus on group problem solving and team building and range in height from literally sitting on the ground to a height of 12 to 13 feet," says researchers H. Lee Gillis, a Professor in the Department of Psychology at Georgia College & State University, and Elizabeth Speelman, the Assistant Director of Program Development for the Youth Learning Institute at Clemson University. "The games are designed to reduce inhibitions and barriers," adds Phan. ""Participants are given a real or imaginary scenario to solve group-based obstacles together with their resources." Exercises focus on building trust, improving participants' ability to communicate, stimulating creative problem solving, collaborating even with constraints, and developing and executing a plan with many moving parts.
What is a High Ropes Course?
High ropes courses are those requiring belaying and focus on building trust and learning to focus in chaotic situations. "They are usually 25 to 50 feet tall," says Phan. "The outcomes are similar to the low ropes course where participants learn to trust, communicate, lead, follow, encourage, and be aware of self and others; however, the high ropes course is more challenging."
"The elements produce powerful memories and provoke deep thoughts and emotions, while challenging physical abilities," write Brent D. Wolfe and Diane M. Samdahl in "Challenging Assumptions: Examining Fundamental Beliefs That Shape Challenge Course Programming and Research."4
A High and Low Ropes Course in Savage, Maryland
Conveniently located in Howard County, Maryland, between Baltimore and Washington DC, Terrapin Adventures features the ultimate challenge course with three levels taking you up to 40 ft. in the air! Each of our 19 traverses is designed to entertain and challenge participants. But what makes our ropes course truly unique is our continuous belay system. You only have to secure your safety line once for each level, letting you focus on your next challenge with confidence.
Please make reservations in advance to insure there is space.
All adventures are led by our expertly trained guides who will be there for you every step of the way.  Everything you need including harness and helmet is provided.
If you have any questions, please call Terrapin Adventure at 301.725.1313, or email us at info@terrapinadventures.com to learn more.
Works Cited:
Haras, K., Bunting, C., & Witt, P. (2005). Linking outcomes with ropes course program design and delivery. Journal of Park and Recreation Administration, 23(2), 36.

Phan, Jenny. "The Impact of Therapeutic Recreation through Ropes Courses and Teambuilding Activities." Diss. 2011. Abstract. Print.

Gillis, Lee H., and Elizabeth Speelman. "Are Challenge (Ropes) Courses an Effective Tool? A Meta-Analysis." Journal of Experiential Education 31.2 (2008): 111-35. Web.

Wolfe, B. D., and D. M. Samdahl. "Challenging Assumptions: Examining Fundamental Beliefs That Shape Challenge Course Programming and Research."Journal of Experiential Education 28.1 (2005): 25-43. Web.