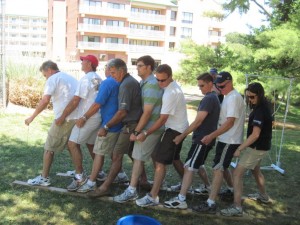 Building a team is the easy part. Just think back to those lazy summer days at the park when you were a kid picking teams for kickball. Hiring employees is a similar process. The team captain (employer) surveys his/her potential teammates (employees), making various calculations to help form the best team. However, instead of choosing Timmy because he has a strong leg, you choose him because he has a knack for making sales. Instead of choosing Sarah because she has a mean curveball, you choose her because she is a master negotiator. And so on and so forth. All the while, you try to pick players who will form the strongest possible team. But how do you get them to work as a team and not just a group of strong individuals? Just because you picked the strongest players – hired the best employees – doesn't guarantee you will have a strong team.
One way to improve teamwork is to put your team in situations where they are required to interact, communicate, and problem solve as a group.
Trolley Walk: Getting Everyone on the Same Page
"The classic example of something being much harder than it looks."
Physical Activity:
Medium
Equipment: 2 boards (trollies) and rope.
Lessons Learned: Teamwork, collaboration, communication, and problem solving.
What We Do: For this classic team building activity, each person stands with one foot on each trolley, while holding a rope from each. Then your group must walk together using a single pair of shoes from point A to point B. It's not quite as easy as it sounds. And the exercise gets harder with each progressing level.
How will your team respond to the challenge? Will they be able to work together to solve a seemingly simply problem? Or will they fight among themselves, failing to work as a team?
Mastering the trollies requires a great deal of communication, shared leadership, and concentration skills, making it the perfect team building exercise.
Team Building with Terrapin Adventures
Experience our Corporate Team Building challenges and your group will find better, more effective ways to communicate and work with each other through a series of exciting and carefully designed Team Building activities. Presented in a fun and creative way our group facilitators will lead your group through unique events followed by debriefing sessions to help your group not only work better as a team, but fully understand the strides they made during their team building program.
Serious Team Building partnered with Serious Fun!
Located between Baltimore and Washington DC, Terrapin Adventures is uniquely suited to provide a custom Team Building solution for any company, both onsite and offsite.
If you have any questions about Team Building and fostering better communication and collaboration, please call Terrapin Adventures at 301.725.1313, email us at info@terrapinadventures.com, or fill out the contact form on our website. You can also follow Terrapin Adventures us on Facebook, Twitter, LinkedIn, YouTube, Google+, and Pinterest for up-to-date information on events, trends, and other fun and exciting outdoor activities.