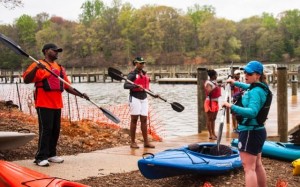 Terrapin Adventures is all about fun! In fact, you may say that we are on the cutting edge of fun. We have created a new realm of aerial adventures using only wood, rope and cable. Our high ropes course, which takes you up to 40 ft. in the air, and our Terrapin Explorer kids' course, designed for children ages 5-10, provide hours of fun as you walk, balance, swing, zip, climb, and crawl your way through each unique element. Even our team building events are packed with some serious fun! However, the thing that truly puts Terrapin Adventures on the cutting edge of fun is our expertly trained Aerial Adventure Guides and Group Facilitators – the people responsible for providing a safe, thrilling, memorable, and meaningful experience for all of our guests. Our staff is not only chosen for their technical skills, but also their love of the outdoors and ability to make your time with us memorable and entertaining.
We are very proud of our guides and facilitators, so we decided it was high time that we shone the spotlight on a few of our great guides, our fantastic facilitators, our energetic employees, our…well, you get the idea.
Getting to Know Missy Lauterbach: Naturalist, Guide, & Team Building Facilitator
After just a few minutes with Missy, you'll love her! She has an infectious personality, which makes her an excellent team building facilitator. She loves working with corporate groups and they love working with her. Missy has a knack for creating exercises that get team building groups to think differently, recognize areas of improvement, and reflect on why they act the way they do. This is one of the reasons why Missy is often requested to repeat as a facilitator from our many repeat groups.
"When team building is coupled with follow-up sessions in which team building commitments are reinforced and renewed, the positive effects of the team building are prolonged," writes researcher R. Wayne Boss.1
Missy is also an accomplished naturalist and held many positions with the Maryland Department of Natural Resources and multiple nature centers before joining our team here at Terrapin Adventures. She often incorporates her wealth of knowledge of local flora and fauna into her programs and tours and has been known to amaze guests with her knowledge of local birds of prey. Missy also enjoys kayaking, hiking, running, geocaching, and camping.
When not with guests, Missy is in charge of our course maintenance program – just another way we utilize Missy's incredible eye for detail.
Favorite Team Building Exercise:
"I like having groups work with pipeline as it stimulates the group to develop and execute a plan, be open to different points of view, and ensure that team members communicate continuously," says Missy, who has a knack of helping a group work through some team building issues in a fun and meaningful way.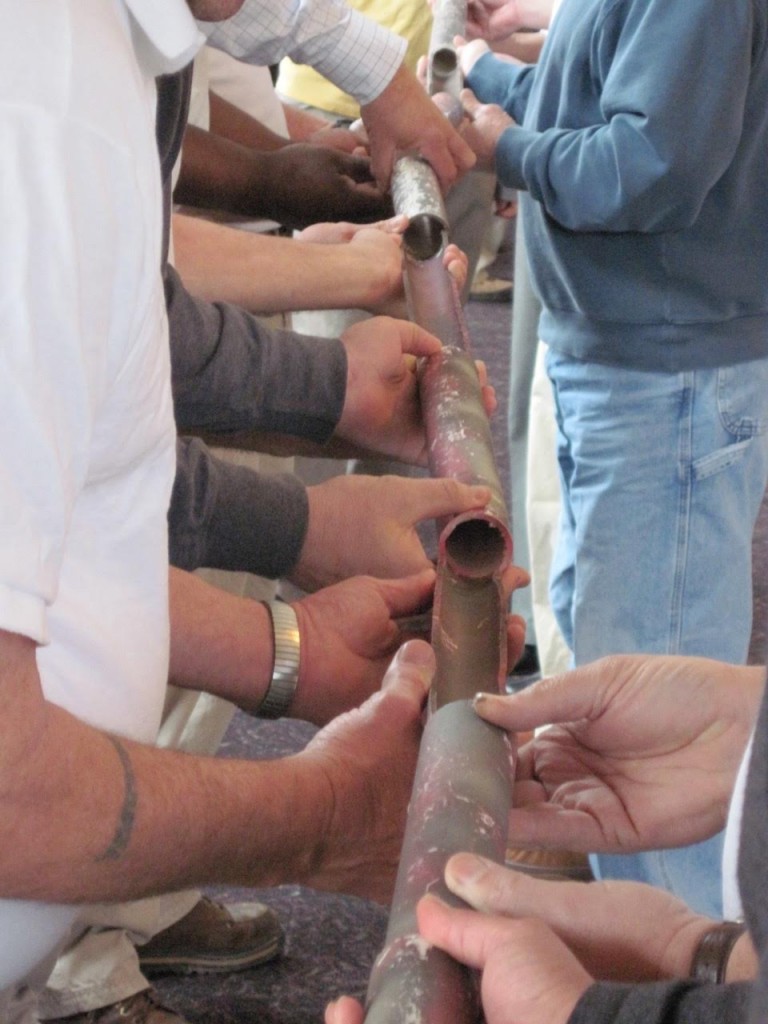 "I received sooooo many favorable responses from my staff of the great time that we had a Terrapin Adventures; we've been sharing photos and videos. I've received so many compliments for putting together a dynamic outing, you made me a big hero her at Agroa."
– Karen Roberts, Agora Publishing
Memorable Moment At Adventure Park:
"I would like to thank you and your staff for a wonderful afternoon.  The entire office can't stop talking about it, everyone left with their own great story. The minute we entered your center we were greeted by a friendly and incredibly helpful staff.  Several of our staff members are terrified of heights but can't stop singing Missy and Rachel's praises for encouraging them on the giant swing and zipline.  Our Medical Director has been wanting to participate in a build-a-boat contest for years and even though both boats sank IMMEDIATELY he was thrilled!  We're looking forward to coming back next year, but you'll probably see quite a few of us back before then."
– Kelly Robinson Supervisor of Staff and Patient Care KinderMender: Pediatric Walk-In Center
Visit Missy and the Rest of the Terrapin Adventures Crew for Some Fun & Excitement!
Conveniently located in Howard County, Maryland, between Baltimore and Washington DC, Terrapin Adventures is ready to show you and your group a good time. Visit us to soar through the air, defy gravity, and enjoy Outdoor Adventures as you learn a little bit more about yourself and those around you! Whether you're interested in Team Building activities for your group, a Birthday Adventure Party, or a fun day with family or friends – we can make sure you get your fill of thrills!
If you have any questions, please call Terrapin Adventure at 301.725.1313, or email us at info@terrapinadventures.com to learn more.
Works Cited
Boss, R. W. "Team Building and the Problem of Regression: The Personal Management Interview as an Intervention." The Journal of Applied Behavioral Science 19.1 (1983): 67-83. Web.