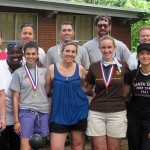 "Coming together is a beginning. Keeping together is progress. Working together is success." Henry Ford
True leadership can take a mediocre performing company to new heights by building great teams. No matter what the environment: work, school, sports team, non-profit group, scout troop, a good leader has the ability to understand people building on their strengths while minimizing their weaknesses.
1.  A good first step is to understand yourself and your team members. Personality profiles can give leaders insight into what makes them and their team tick.
(To read more about Personality Profiles, click here: http://www.terrapinadventures.com/2014/02/20/team-building-tip-personality-profiles-really/
2.  For successful teams leaders need to take stock of their leadership style. Effective leaders can change their style based on the people they are interacting with. In addition, leaders need to be cognizant of the situation. While you want to be consistent in your message, different approaches will have different results if you understand the person you are communicating with and the environment.
(To read more about Six Styles of Leadership, click here: http://www.terrapinadventures.com/2014/03/13/six-style-leadership/
3.  Finally, leaders need to be aware of group dynamics. Successful leaders know what buttons to push and are experts at activating the talent that surrounds them. They are equally effective at matching unique areas of subject matter expertise and /or competencies to solve problems and seek new solutions.
Successful teams typically go through five stages of development. Pushing expectations & tasks onto a group that has not matured can result in false starts and poor performance. Leaders need to develop the team by leading groups through these stages of development keeping personalities in mind.
(To read more about The Five Stages of Group Development, click here: http://www.terrapinadventures.com/2014/04/24/team-building-tip-five-stages-group-development/
To make a team building inquiry, click here or call 301-725-1313
Matt Baker
Chief Adventure Officer
Team Building Facilitator