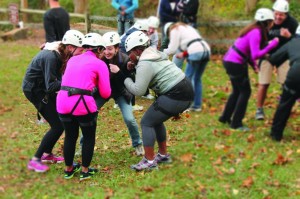 For a company or organization to perform well, the members must have confidence in each other; they must trust each other. Deadlines, financial constraints, and turf wars complicate this ability to work together.
If company members have confidence and trust each other, they find it easier to work out problems and perform at high levels. It also allows them to innovate and take risks because they believe in each other. Trust can be a powerful business tool. But how do you build trust?
How to Build Trust and Foster Collaboration
First you must get to know each other as people. Then by working together on small tasks and then larger projects, you gain confidence in others to cover you when you are not there, pitch in when needed, and do the right thing at the right time.
At Terrapin Adventures we have a number of exercises that get team members to get to know each other better and collaborate to solve problems. When you build those relationships it isn't those people in the other (fill in the department). It is my friend (fill in the name) who helped me when I stumbled on the challenge course and gave me support when I had doubts. The result better performance.
Team Building with Terrapin Adventures
Located between Baltimore and Washington DC, Terrapin Adventures is uniquely suited to provide a Team Building solution for any company, both onsite and offsite. You can take advantage of our Adventure Park – Zip Line, Giant Swing, Climbing Tower, low and high ropes courses – or we can come to you.
If you have any questions about Team Building and Building Trust, please call Terrapin Adventures at 301.725.1313, email us at info@terrapinadventures.com, or fill out the contact form on our website. You can also follow Terrapin Adventures us on Facebook, Twitter, LinkedIn, YouTube, Google+, and Pinterest for up-to-date information on events, trends, and other fun and exciting outdoor activities.