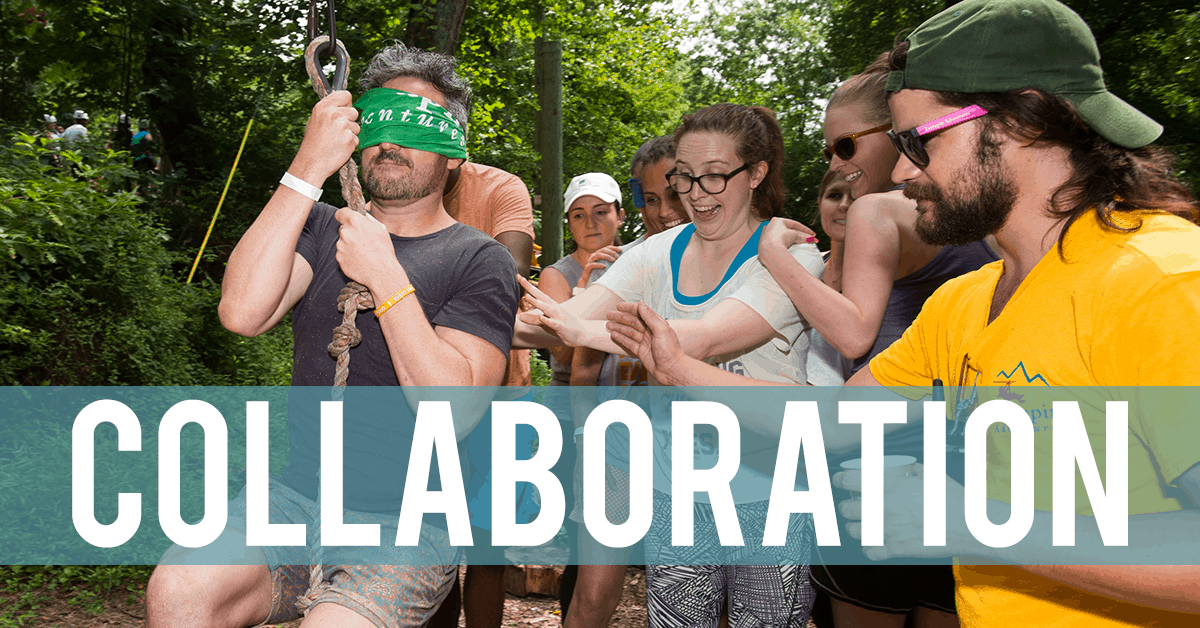 In an ideal office environment, every employee would be working together as a cohesive unit, striving for a shared goal. In reality, things tend to operate much more chaotically. Incentives are not always aligned and communication has room for improvement.  The end result: inefficiency. So, the million dollar question is How Do You Get Everyone on the Same Page? And we're here to tell you that collaboration is actually easier than you might expect.
Team Building Builds Better Collaboration
"High-functioning teams are what make high-performing companies click," writes Judith A. Ross, Harvard Business Review. Here are our 5 keys to get everyone on the same page and improve overall team performance.
1)
It All Starts with Trust
"For teams to be effective, they have to trust each other," says Matt Baker, Chief Adventure Officer at Terrapin Adventures. This is a core component of any good Team Building program. While you can't force people to trust each other (that is just not how trust works), you can put people in situations where they will learn to trust one another.
Theologian Isaac Watts once said, "Learning to trust is one of life's most difficult tasks." Fortunately, we are up to the task. Terrapin Adventures is able to create a customized team building programs (onsite or offsite, indoor or outdoor) that challenge your group to step out of their comfort zones and encourage them to work together to solve certain tasks. These simple exercises help break down communication barriers and foster trust, which will, in turn, help promote teamwork and collaboration.
"When people get to know each other and work together over a shared exercise, they develop trust," says Baker.
2) Team Building Needs to Be Fun
There is a BIG difference between team building and team bonding (check out our article here). "Is there value to both types of services? Absolutely." writes Stephanie Sibille and Paul Cummings, Adventure Park Insider. But only team building will affect long-lasting change within your team or organization. Still, team building needs to be fun in order to keep everyone engaged.
At Terrapin Adventures, we take team building to new heights – literally!
"It may be time to rethink the concept of corporate team building," write Paul Adler, Kayla Dale, and Laurie Yarnell, Westchester Magazine, "as several organizations have begun offering exciting ways to bond with colleagues over a host of challenging fitness events."
Presented in a fun and creative way, our team building exercises, like the King's Finger (below),  help drive powerful life lessons without sitting in a stuffy classroom. "We like to say, we are serious about having fun at Terrapin Adventures," says Baker. "When people are have fun, they are more open and receptive to learning and other points of view." It's all about experiential learning – learning by doing.
Team building "can also be adventurous and enjoyable if you do it with a little pizzazz," says O2E Brands founder and CEO Brian Scudamore. "The most successful, memorable team-building events are ones that don't feel like a day at the office."
3) Exercises Relate to Group Goals
Every team is different and therefore every team building program must also be different. So it is important to first establish what you want to get out of your team building adventure. An example could include — improving our problem solving and decision making process. This will allow the facilitator to create a custom program suited to your group's specific wants and needs.
Terrapin Adventures encourages groups to solve problems in fun and creative ways.
4) Debriefing Sessions Are Critical
"It's not team building unless you reflect on what happened," says Baker. "Exercises in a vacuum have limited benefit." This is why every Terrapin Adventures team building exercise is followed by a debriefing session. Your group will sit down with their facilitator to discuss the lessons behind each activity.
"A skilled facilitator will stimulate group discussion after an exercise to help the group identify what worked, what needs to be improved and how what happened in the exercise relates to what happens in the work environment," says Baker.
This discussion is designed to reinforce these lessons learned and help ensure that the progress made during your team building outing sticks.
5) Inclusivity is Key
"Exercises should be inclusive," says Baker. "Team building exercises should be designed so everyone can participate and contribute." Otherwise, what's the point? For a team building program to be truly effective, everyone must participate equally.
Terrapin Adventures has developed a series of creative and fun exercises that can be done inside and on the ground that allow everyone to participate. No matter your physical abilities, there are plenty of ways they can contribute to the success of the group.
Terrapin Adventures Team Building Can Help Improve Office Collaboration & Get Everyone on the Same Page
"Team building is the most important investment you can make for your people," says Scudamore .A couple hours of team building will help align people and improve team performance. To learn more click here and give us a call at 301.725.1313. You can also fill out a team building inquiry form below.