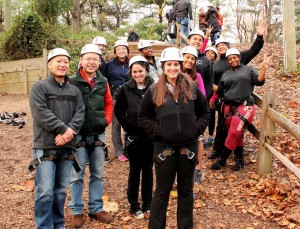 There have been numerous studies conducted over the years regarding the role high (or low) morale plays in employee productivity. According to a study by Bright Horizons, employees with high morale are more productive: 89% more likely put in extra effort and extra hours at work. Researchers at the University of Warwick, meanwhile, have found that happiness makes people an estimated 12% more productive.
For these reasons, many employers look to boost employee morale through Morale Building activities, fun activities: company dinners, picnics, etc. The problem: unless fundamental changes are made within a business, subsequent morale boosting will only be temporary. In order for morale to remain at a high level, changes must be made within an organization that change process for the better. This is where Team Building comes into play.
Morale Building vs. Team Building
The term "Team Building" is often thrown around out of context to refer to morale building activities. However, team building is so much more than that. Team building is designed to bring employees (and employers) together to not only have fun, but also learn to work together in a constructive way. Team building is designed to help a business evolve and transform in a cohesive unit. You see, morale building is designed to increase happiness for a short period of time, while team building is designed to create a lasting change within an organization.
Team Building Helps Boost Collaboration
According to surveys, 39% of employees believe that people in their own organization don't collaborate enough. Meanwhile, 97% of employees and executives believe that lack of alignment within a team directly impacts the outcome of a tasks and projects. Finally, 86% of employees and executives site lack ofcollaboration or ineffective communication as a primary cause for workplace failures. So maybe it is time to give team building and collaboration some more attention.
Better collaboration means better productivity, which means better profitablity. It's a win-win for everyone involved.
Team Building with Terrapin Adventures
Conveniently located between Baltimore and Washington DC, Terrapin Adventures is uniquely suited to provide a team building solution for any company, both onsite and offsite. Our experienced staff is able to create a customized program designed to meet your unique needs as an organization. Our group facilitators and guides will lead your team through unique events, challenges, and trust exercises that will help them think creatively and collaborate with one another. And all of our team building efforts conclude with a debriefing, where the group facilitators and guides relate the day's team building activities into your group's daily corporate workplace challenges.
Click Here to request a date.
If you have any questions about Team Building, please call Terrapin Adventures at 301.725.1313, email us at info@terrapinadventures.com, or fill out the contact form on our website. You can also follow Terrapin Adventures us on Facebook, Twitter, LinkedIn, YouTube, Google+, and Pinterest for up-to-date information on events, trends, and other fun and exciting outdoor activities.