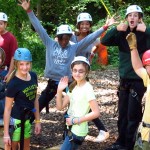 The Benefits of Adventure Camp
You may have asked yourself at some point, how can my child benefit from camp?  Some people may see camp just as a way to occupy their children during the summer months. However any good camp actually fosters learning and growth of your children.  Camp provides a parent and teacher-free zone that focuses on experiential learning rather then the "memorize and regurgitate" of the classroom.
Most parents know that having at least a little time away from your kids can be good for their "mental health." The reverse is just as true! It's important for children to be able to interact with each other without their parents or teachers present. Camp allows kids to grow socially through parent-free interactions. This means that they are testing their social boundaries and figuring out what kind of person they are and want to be.
There is a big difference between schools and camps. The foremost difference is camps focus on experiential learning or learning directly through experience. Experiential learning is an extremely effective form of education and has gained a lot of popularity over the years for good reason.  We learn best through experience, and camp allows kids to try things out on their own, and test the knowledge they gain as well as their own personal values. A child my have a fear of heights, but after a week of adventure camp may come to love climbing and challenging themselves in the outside world.
Camp can also foster a sense of self-reliance and this is partially prevalent in sleep-over camps. Camps that teach kids how to cook for themselves and live in the outdoors are fostering self confidence, independence and giving people skills they can use for the rest of their lives!
To learn more about Terrapin Adventures camp offerings, click here.
Alec Wilbur, Camp Director, Terrapin Adventures