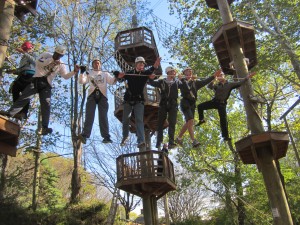 Challenge courses, also referred to as ropes courses, have been in use since the early 1940s.1 These courses can be characterized as either low or high ropes courses. Low challenge courses are activities "generally focus on group problem solving and team building and range in height from literally sitting on the ground to a height of 12 to 13 feet," says researchers H. Lee Gillis, a Professor in the Department of Psychology at Georgia College & State University, and Elizabeth Speelman, the Assistant Director of Program Development for the Youth Learning Institute at Clemson University.2 High challenge courses, meanwhile, are those requiring belaying and focus on building trust and learning to focus in chaotic situations.
"It is clear that challenge course experiences are beneficial tools for participants" and can impact "a variety of educational and psychological constructs," write Gillis and Speelman.
Originally used by the military as a means to train soldiers, these courses have since been adapted for private use and have gained widespread popularity.
"Approximately ten thousand ropes courses exist in schools, camps, therapeutic institutions, and park districts in the United States with about 250 more being built every year," according to authors Kathy Haras, Camille J. Bunting, Peter A. Witt.3
Often used in a team building capacity, challenge courses are also an excellent source of recreational and therapeutic
The Therapeutic Benefits of Challenge Courses
In 2007, 24.3 million adults (10.9%) in the United States suffered from some type of serious psychological distress (SPD), according to data collected by the U.S. Department of Health and Human Services. This is one reason why this department has highlighted the need to make mental health a national priority. And, according to researchers Tracy Hecht and Kathleen Boies, the solution could be simple: exercise.4 According to the pair, "sports, recreation, and fitness programs lead to less somatic complaints and higher life satisfaction," as well as "lower absenteeism and higher job satisfaction." In layman's terms, there are clear physical, emotional, psychological, and social benefits of leisure.
Researchers Douglas Kleiber, Susan Hutchinson, and Richard Williams found that leisure activities play four important factors in overcoming negative life events:
Leisure activities can help

distract participants

from negative life events.

Leisure activities can provide

temporary relief

by

generating optimism

.

Leisure activities can provide a

sense of control

and

normalcy

.

Leisure activities can bring

motivation

of attaining new goals and looking forward to the future.
Then in 2010, researcher Jenny Phan tested this notion with a particular emphasis on challenge courses and team building activities. Phan evaluated and tested the benefits of these activities on 120 subjects.5 The results revealed that challenge courses and team building activities "impacted the participants at an emotional and social level," and most participants saw a noticeable increase in their "emotional and social skills." Of the 120 participants, 79 stated that the activities had some type of an impact on their ability to overcome fear, 76 noted a positive impact on self-esteem, 104 trust, 97 confidence, 83 empathy, 75 ease of stress, and 94 noted a positive outlook on life after their afternoon on the challenge course.
"From the data, it shows that placing the participants in challenging situations does increase their trust level with themselves and others," says Phan. And this carries over into the participants' daily lives, according to the National Recreation and Park Association, who cite the ultimate goal of ropes courses as transferring "learnings from the ropes course experience to their everyday lives."
Low & High Ropes Courses in Savage Mills
Conveniently located between Baltimore and Washington, DC, Terrapin Adventures features an ultimate challenge course with three fun-filled levels, taking you up to 40 ft. in the air! We employ a continuous belay system, and all aerial adventures are led by our uniquely trained guides who are all about making sure you stay safe while having a great time.
Reservations are suggested for all adventures to make sure you won't have to wait too long.  
*For groups of 10 or more that pre-pay we can offer discounts.*
If you have any questions, please call Terrapin Adventure at 301.725.1313, or email us at info@terrapinadventures.com to learn more.
Works Cited
Rohnke, Karl, Catherine M. Tait, Jim B. Wall, and Jim B. Wall. The Complete Ropes Course Manual. Dubuque, IA: Kendall/Hunt Pub., 1997. Print.

Gillis, Lee H., and Elizabeth Speelman. "Are Challenge (Ropes) Courses an Effective Tool? A Meta-Analysis." Journal of Experiential Education 31.2 (2008): 111-35. Web.

Haras, K., Bunting, C., & Witt, P. (2005). Linking outcomes with ropes course program design and delivery. Journal of Park and Recreation Administration, 23(2), 36.

Hecht and Boies (2009). Structure and correlates of spillover from nonwork to work: An examination of nonwork activities, well-being, and work outcomes. Journal of Occupational Health Psychology, 14(4), 414-426. Retrieved on October 14, 2009 from Ebsco Host.

Phan, Jenny. "The Impact of Therapeutic Recreation through Ropes Courses and Teambuilding Activities." Diss. 2011. Abstract. Print.

Kleiber, Douglas A., Susan L. Hutchinson, and Richard Williams. "Leisure as a Resource in Transcending Negative Life Events: Self-Protection, Self-Restoration, and Personal Transformation." Leisure Sciences 24.2 (2002): 219-35. Web.