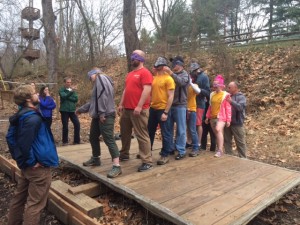 Terrapin Adventures is all about fun! In fact, you may say that we are on the cutting edge of fun. We have created a new realm of aerial adventures using only wood, rope and cable. Our high ropes course, which takes you up to 40 ft. in the air, and our Terrapin Explorer kids' course, designed for children ages 5-10, provide hours of fun as you walk, balance, swing, zip, climb, and crawl your way through each unique element. Even our team building events are packed with some serious fun! However, the thing that truly puts Terrapin Adventures on the cutting edge of fun is our expertly trained Aerial Adventure Guides and Group Facilitators – the people responsible for providing a safe, thrilling, memorable, and meaningful experience for all of our guests. Our staff is not only chosen for their technical skills, but also their love of the outdoors and ability to make your time with us memorable and entertaining.
We are very proud of our guides and facilitators, so we decided it was high time that we shone the spotlight on a few of our great guides, our fantastic facilitators, our energetic employees, our…well, you get the idea.
Getting to Know Steve Cohen: Team Building Facilitator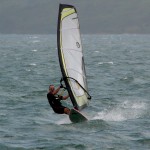 Steve Cohen is a native of Maryland who received his BA from Brandeis University and his MBA from Harvard. Steve has enjoyed a long career in real estate development, as well as a long career in fatherhood, raising three daughters with his wife Barbara. So, once life settled down a bit and the seemingly nonstop calendar of events, ranging from coaching soccer and lacrosse to breaking boards in karate classes, came to an end, Steve decided it was time to get back to basics – back to nature.
Steve first experienced the excitement of the outdoors as a Boy Scout, which introduced him to many of the activities that he would pursue throughout the years: water sports, hiking, mountain and road biking, skiing, and a love of new challenges. Having discovered windsurfing in the early 80's, this passion has taken him to Costa Rica, the Caribbean, Hawaii, Brazil, Venezuela and the Columbia River Gorge in Oregon.
Now, Steve has set his sights on learning to speak Spanish, kiteboarding, team building, and helping others enjoy the great outdoors.
Favorite Team Building Exercise: Steve's favorite team building exercise is Whale Watch, in which the entire group must climb on top of the giant teeter totter without hitting the sides on the ground. It's easier said than done and groups can get very intense, especially when adding a few monkey wrenches such as blindfolds or mousetraps.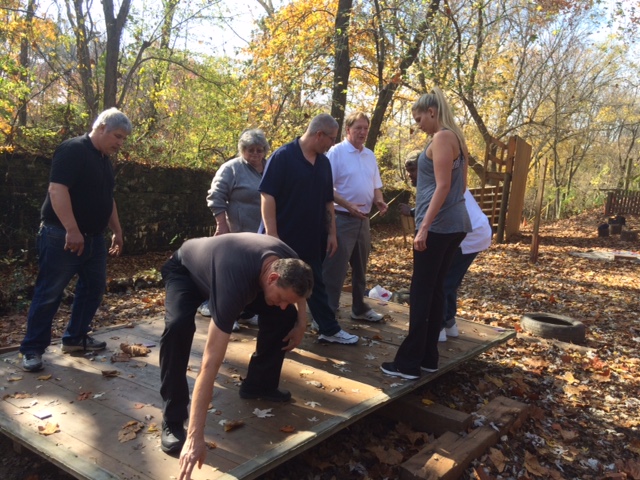 "Thanks Steve. We had a great time. In fact, everyone reported that they thought the workshop and your facilities met our needs very well."
– Peter Nassif, Holcim, Inc.
Memorable Moment At Adventure Park: One highlight that sticks out for Steve is when members of the Wounded Warrior Project – two of which were in wheelchairs – visited Terrapin Adventures. When the time came to tackle our 330 ft. zip line, Steve and others had to engineer a solution to help get these Wounded Warriors out of their wheelchairs and up onto the zip line. Steve recalls just how rewarding it was to see the look of accomplishment on not just the two individuals, but also their teammates.
Visit Steve and the Rest of the Terrapin Adventures Crew for Some Fun & Excitement!
Conveniently located in Howard County, Maryland, between Baltimore and Washington DC, Terrapin Adventures is ready to show you and your group a good time. Visit us to soar through the air, defy gravity, and enjoy Outdoor Adventures as you learn a little bit more about yourself and those around you! Whether you're interested in Team Building activities for your group, a Birthday Adventure Party, or a fun day with family or friends – we can make sure you get your fill of thrills!
If you have any questions, please call Terrapin Adventure at 301.725.1313, or email us at info@terrapinadventures.com to learn more.