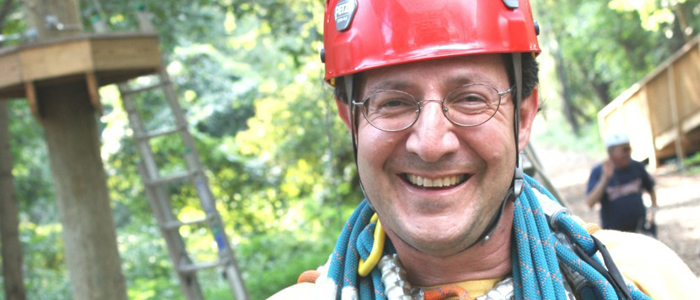 Terrapin Adventures is all about fun! In fact, you may say that we are on the cutting edge of fun. We have created a new realm of aerial adventures using only wood, rope and cable. Our high ropes course, which takes you up to 40 ft. in the air, and our Terrapin Explorer kids' course, designed for children ages 5-10, provide hours of fun as you walk, balance, swing, zip, climb, and crawl your way through each unique element. Even our team building events are packed with some serious fun! However, the thing that truly puts Terrapin Adventures on the cutting edge of fun is our expertly trained Aerial Adventure Guides and Group Facilitators – the people responsible for providing a safe, thrilling, memorable, and meaningful experience for all of our guests.
We are very proud of our guides and facilitators. Our staff is not only chosen for their technical skills, but also their love of the outdoors and ability to make your time with us memorable and entertaining. Each and every one of the Terrapin Adventures team cares very much about providing our guests with an exceptional experience. So we decided it was high time that we shone the spotlight on a few of our great guides, our fantastic facilitators, our energetic employees, our…well, you get the idea.
And it starts at the top!
Getting to Know Matt Baker: Chief Adventure Officer and Team Building Facilitator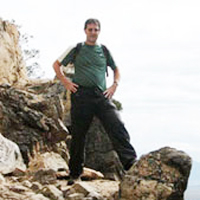 Matt has a proven track record of improving companies bottom lines through creative operational improvements. He has started up new companies and helped turn around those with issues. This is Matt's 3rd career, having previously been a solar energy economist during the Carter administration (Matt likes to say when solar was cool the first time!), before spending 25 years as a healthcare executive, running all kinds of health care businesses. Then, of course, came the career to end all careers, the business to end all businesses – Terrapin Adventures.
Matt is not only our Chief Adventure Officer, but he is also one of our team building group facilitators. He enjoys nothing more than watching a group "get it" and go from frustrated to elated as they figure out how to trust, communicate, and problem solve – contributing and being engaged in the group challenge.
"It is revealing to see how using personality profiles can help people understand the importance of adjusting your communication style to be effective," says Matt.
"Matt, Words can't express how grateful I am to you for taking such great care of our team!  The experience was exactly how I imagined and you and Jason couldn't have been better in your facilitation.  The group was very complimentary of you and the amazing facility you have."
– Blair Philbrick, Pentec Health Incorporated
Favorite Team Building Exercise: I love wild woozy because it incorporates trust, constant communication and roles for everyone to play. We like calling it total commitment because without it progress it difficult and you can see the level of commitment in people's body language; are they leaning on each other or holding back.
"From the consensus of opinion of this group, we had an excellent experience with you and your crew at Terrapin Adventures. Everyone had a chance to participate and learn more about group dynamics, improved communication style and also to learn more about each other. One of the particpants had commented that they will take with them wonderful memories from this training. Many thanks to you and your staff for a job well done."
– Jeffery Tworzyanski, U.S. Food and Drug Administration
Matt also greatly enjoys being outdoors and has spent many memorable days sailing on Lake Winnipesaukee, biking long distance through Maine and New Hampshire, kayaking the quiet waters of the Chesapeake waterways, fishing for "the big one" in Alaska, and seeing majestic vistas all over the world from New Zealand to Africa to Ecuador, Iceland, and even China. Matt loves to travel and has been to 45 of 50 states, as well as 20 countries and counting. He is also an expert rifleman and even choreographed a marching band halftime show when in high school.
Memorable Moment At Adventure Park: There was a mother daughter team doing the high course and while the daughter stopped after level I, the mom wanted to show her daughter what is possible with some fortitude so even though she was scared and tired, she did two levels of the high course.
"Today I came to Terrapin Adventures with my 9-year-old daughter Marie. I'm guessing Matt would remember us. He was so nice and so was everyone else today. Poor Marie ended up so full of fear you guys had to help her down. But for me, I really wanted to finish the challenge course. I wanted to accomplish something I never dreamed I could. For some it might have been trivial but to me it meant a great deal. I've lost 200 lbs. in the past 3 years (without surgery) and I've really tried to become a p person I can be proud of. Today was a huge step for me in overcoming so many fears. Jumping off those platforms today was amazing. I've been telling myself I can do anything and today helped prove that to me even more."
– Dawn
Visit Matt and the Rest of the Terrapin Adventures Crew for Some Fun & Excitement!
Conveniently located in Howard County, Maryland, between Baltimore and Washington DC, Terrapin Adventures is ready to show you and your group a good time. Visit us to soar through the air, defy gravity, and enjoy Outdoor Adventures as you learn a little bit more about yourself and those around you! Whether you're interested in Team Building activities for your group, a Birthday Adventure Party, or a fun day with family or friends – we can make sure you get your fill of thrills!
If you have any questions, please call Terrapin Adventure at 301.725.1313, or email us at info@terrapinadventures.com to learn more.