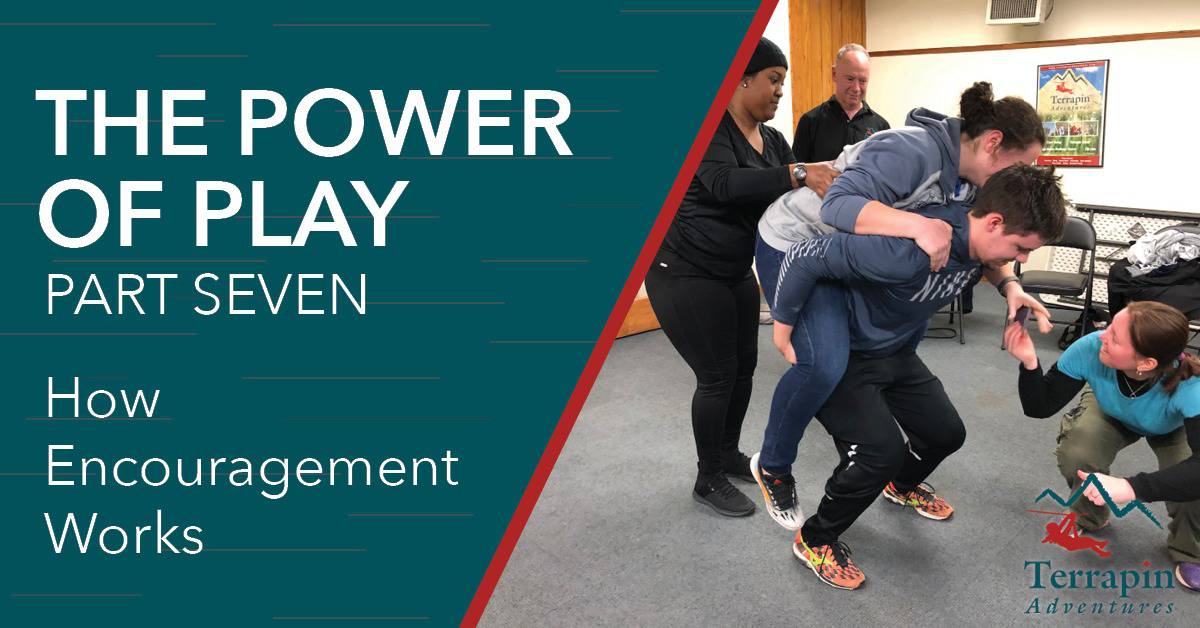 Here at Terrapin Adventures, we believe in the power of play. It's why we infuse every custom team building program with a high level of F-U-N! It's a scientifically-proven way to speed up the learning process, improve communication, build trust, and increase efficiency. Simply put, happy employees work harder, says Tim Aldiss, Lifehack. It's all about encouragement.
"Most think of play at work as a distraction, — inappropriate or simply a waste of time," adds Michelle Burke, co-founder and President of The Energy Catalyst Group. "As a communication and culture consultant, the typical conversation with clients is often about employee engagement and how to create a more positive and energized workforce. I believe play is the vital missing solution at work."
Encouragement: A Fun Atmosphere Promotes Productivity
"Numerous studies suggest that when people are enjoying their jobs they are more efficient," writes Aldiss. One such study from the University of Warwick, reveals that employee satisfaction (fun) and productivity are linked. In layman's terms, happy employees just do a better job. Happy employees also show up to work more regularly because they actually like what they are doing.
However, many companies have still not embraced the re-FUN-lution. And, as technology increases and work-life balance decreases, workplace-related illnesses remain on the rise. According to a report from King's College London and the London School of Economics and Political Science, such work-related illnesses (including depression) cost European employers the equivalent of $120 billion a year. The largest loss comes from absenteeism and lost productivity.
"If we can't go back to the days of being home for supper at 5.30 p.m., what businesses can do is to create leisure time in the working day," says Aldiss, "by bringing leisure into the workspace and encouraging employees to break up their day with allocated periods of creativity, communication, and free play with colleagues."
Shared Experiences Fuel Organizational Change
Putting a ping pong table in the break room is a great way to let your employees unwind, but if you really want to promote organizational change in the office, it's important to occasionally get out of the office – take an encouragement field trip. 
"Socializing outside of work is an effective way to increase employee engagement at work," says Natalie Wickham, Quantum Workplace. "It can lead to strong working relationships, effective communication, and increased job satisfaction." 
One of the best ways to get your employees out of the office and drive change is to invest in team building. 
Team Building Promotes Fun & Learning
"When employees have the opportunity to play, they actually increase their productivity, engagement and morale," writes Stuart Brown, MD, founder of the National Institute for Play.
Conquer Your Fears – Zip Line & Giant Swing
What is more fun than conquering your fears and flying high on either our zip line or Giant Swing? Experience the thrill of gliding through the trees 30 ft. in the air at speeds up to 20 mph as you soar on our 450 ft. zip line.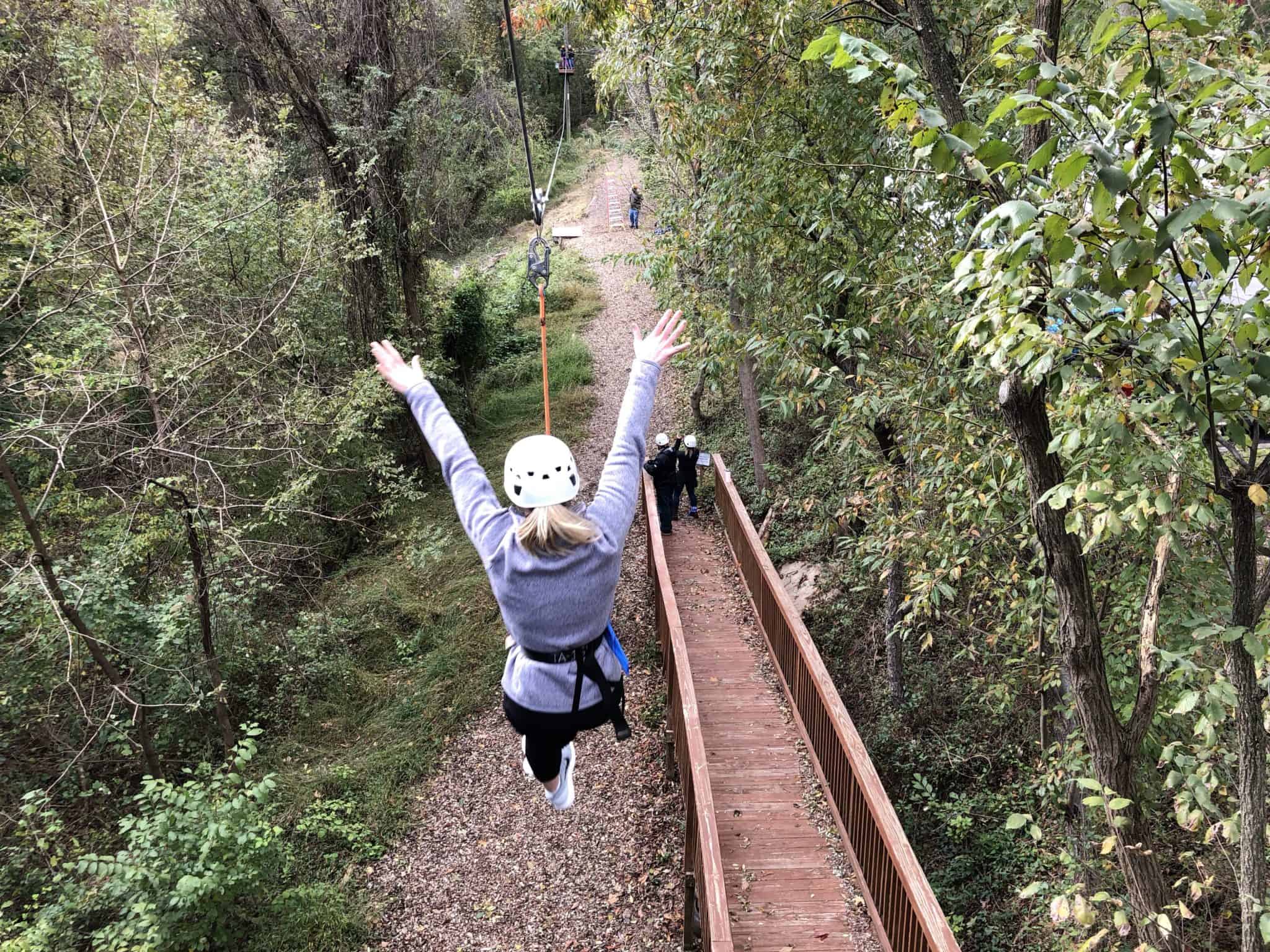 Or you and a co-worker (or two) strap into your harness after climbing on a 4 ft. high scaffolding as our patented winch system pulls you back and up to almost 40 ft. in the air. Then, you release the swing and experience an exhilarating 2 G's of force as you swing back and forth over the landscape with views of the river.
Some Grounded Play – Encouragement & Teamwork
At Terrapin Adventures, we use the power of play to make a point. Whether it is Lily Pad where the team has to get across an imaginary hazzard without losing contact with the disc, or balance on our Whale Watch, these games make the point that one person's actions or encouragement affect others and people need to consider how their actions affect others.
The Importance of Follow-Up Sessions – More Fun & More Impact
Team building is not a one and done proposition, says Matt Baker, Chief Adventure Officer at Terrapin Adventures. "Learning comes from repetition and follow-up." This is why Terrapin Adventures recommends a follow-up session every three to six months using new/different exercises. Rhese follow-up sessions are proven to "help to sustain high performance," according to William G. Dyer, W. Gibb Dyer, and Jeffrey H. Dyer, authors of Team Building: Proven Strategies for Improving Team Performance.
Schedule Your Custom Team Building Program & Start Seeing Results
Team building is a year-round endeavor that can be tackled indoors or outdoors. And Terrapin Adventures, conveniently located between Baltimore and Washington DC, is able to create a truly customized team building program to help improve communication, build trust, and better employee satisfaction within your team. We make team building engaging, meaningful and fun! Each exercise is led by one of our experienced facilitators, who will not only help guide your experience, but also tie the lessons back into the workplace to support organizational development.
If you have any questions, please call Terrapin Adventures at 301.725.1313, or email us at info@terrapinadventures.com to learn more.
Sources:
Aldiss, Tim. "How to Harness the Power of Play to Transform Your Work Culture." Lifehack, Lifehack, 4 Dec. 2014, https://www.lifehack.org/articles/work/how-harness-the-power-play-transform-your-work-culture.html.

Burke, Michelle. "The Power of Play at Work." HuffPost, HuffPost, 7 Dec. 2017, https://www.huffpost.com/entry/the-power-of-play-at-work.