Here at Terrapin Adventures, we are very proud of our guides and team building facilitators, so we decided it was high time that we shone the spotlight on a few of our great guides, our fantastic facilitators, our energetic employees, our…well, you get the idea. These are the people responsible for providing a safe, thrilling, memorable, and meaningful experience for all of our guests. Our staff is not only chosen for their technical skills, but also their love of the outdoors and ability to make your time with us memorable and entertaining.
Getting to Know Susannah Waldman: Guide & Team Building Facilitator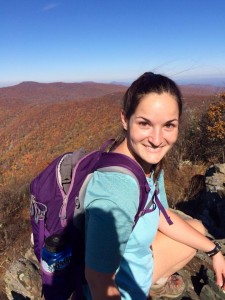 Susannah is currently a student at UMBC, studying Human Geography and Environmental Studies. Susannah is also an avid outdoorswoman. She likes spending as much time outside as possible, whether it is taking her kayak out for a spin, backpacking, or just taking her dog out for a walk. Susannah has spent three months backpacking through Tanzania on a  National Outdoor Leadership School (NOLS) course, she has backpacked the Appalachian Trail from Georgia to Massachusetts, and she loves to take her kayak out on the Chesapeake Bay. 
Susannah is a NOLS graduate, a a Wilderness First Responder, and figures to have spent over a year of her life inside a tent. She even spent a spring living in Santiago, Chile where she studied Spanish. 
Favorite Team Building Exercise:
Susannah's favorite team building exercise is the Invisible Maze. "It gets everyone involved and fosters problem solving, is active, and has a rewarding payoff," she says.
"The team is still talking about their experience and making plans to come back with family and friends. I am seeing a difference in communication styles, smiles and overall improved interaction with the team. I am sure you will see more teams soon."
– Bonne Rampesaud, Department of Health – DC Board of Allied & Behavioral Health
Visit Susannah and the Rest of the Terrapin Adventures Crew for Some Fun & Excitement!
Conveniently located in Howard County, Maryland, between Baltimore and Washington DC, Terrapin Adventures is all about fun! In fact, you may say that we are on the cutting edge of fun. We have created a new realm of aerial adventures using only wood, rope and cable. Our high ropes course, which takes you up to 40 ft. in the air, and our Terrapin Explorer kids' course, designed for children ages 5-10, provide hours of fun as you walk, balance, swing, zip, climb, and crawl your way through each unique element. Even our team building events are packed with some serious fun!
Whether you're interested in Team Building activities for your group, a Birthday Adventure Party, or a fun day with family or friends – we can make sure you get your fill of thrills!
If you have any questions, please call Terrapin Adventure at 301.725.1313, or email us at info@terrapinadventures.com to learn more.