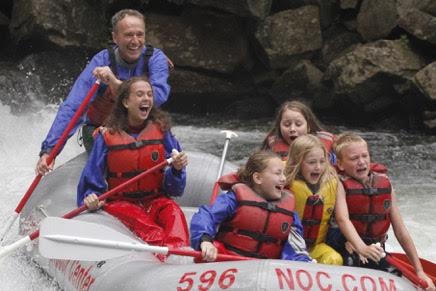 Here at Terrapin Adventures, we are very proud of our guides and team building facilitators, so we decided it was high time that we shone the spotlight on a few of our great guides, our fantastic facilitators, our energetic employees, our…well, you get the idea. These are the people responsible for providing a safe, thrilling, memorable, and meaningful experience for all of our guests. Our staff is not only chosen for their technical skills, but also their love of the outdoors and ability to make your time with us memorable and entertaining.
Getting to Know Phil Smith: Guide & Team Building Facilitator
Phil grew up near the Pennine Mountains in England, which probably explains his love of the great outdoors. Now a dual national, Phil enjoys hiking, biking, skiing and rafting both in the U.S. and around the world. He has rafted the Colorado, Chattooga, Ocoee and various other rivers; climbed Mt. Kilimanjaro and all the major peaks of Britain; and been charged by a black momma bear in Tennessee and a male grizzly in Denali. Last year alone, Phil climbed Half Dome in Yosemite National Park and Huayna Picchu in Peru; he hiked the Annapurna Mountains in Nepal and trekked through jungles in the Amazon. Needless to say, Phil has a lot of first-hand experience, which he enjoys sharing with guests at Terrapin Adventures on our many tours and trips. Phil has over 40 years' experience leading children, youth and adults in team building, experiential and classroom learning, simple fun and extreme thrills!
Phil's formal education is also very broad: his Bachelor's degree is from London University, his Masters from NYU, and his Education Certifications from the University of Georgia.  
"I received sooooo many favorable responses from my staff of the great time that we had a Terrapin Adventures; we've been sharing photos and videos. I've received so many compliments for putting together a dynamic outing, you made me a big hero her at Agroa."
– Karen Roberts, Agora Publishing
"Each and everyone of us had a wonderful time and great things were taken away from the event. I received excellent feedback from the warriors about their experiences pre and post the event. In addition, many spoke about their fears and anxieties that they faced and conquered with the activities provided at Terrapin Adventures."
– Denise Hamlin Glover, Wounded Warrior Project
Visit Phil and the Rest of the Terrapin Adventures Crew for Some Fun & Excitement!
Visit us to soar through the air, defy gravity, and enjoy Outdoor Adventures as you learn a little bit more about yourself and those around you! Conveniently located in Howard County, Maryland, between Baltimore and Washington DC, Terrapin Adventures is all about fun! In fact, you may say that we are on the cutting edge of fun. We have created a new realm of aerial adventures using only wood, rope and cable. Our high ropes course, which takes you up to 40 ft. in the air, and our Terrapin Explorer kids' course, designed for children ages 5-10, provide hours of fun as you walk, balance, swing, zip, climb, and crawl your way through each unique element. Even our team building events are packed with some serious fun!
Whether you're interested in Team Building activities for your group, a Birthday Adventure Party, or a fun day with family or friends – we can make sure you get your fill of thrills!
If you have any questions, please call Terrapin Adventure at 301.725.1313, or email us at info@terrapinadventures.com to learn more.