Here at Terrapin Adventures, we are very proud of our guides and team building facilitators, so we decided it was high time that we shone the spotlight on a few of our great guides, our fantastic facilitators, our energetic employees, our…well, you get the idea. These are the people responsible for providing a safe, thrilling, memorable, and meaningful experience for all of our guests. Our staff is not only chosen for their technical skills, but also their love of the outdoors and ability to make your time with us memorable and entertaining.
Getting to Know Julia Selles: Guide & Team Building Facilitator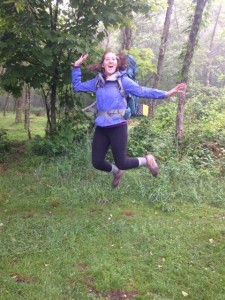 A local Severna Park product, Julia enjoys  listening and playing music (she can play 6 musical instruments including electric violin), rock climbing, traveling and hiking, especially in National Parks. She has also lived in and taught English in Thailand and Ecuador.
Here at Terrapin Adventures, Julia serves as a guide and team building facilitator.
"You all run a great program. It was easy to set up, and the concerns dissipated quickly on the day of the team building event. Many of the the other staff members have praised your performance. Thank you! As an organization that is growing and developing, this was a great way to frame our values discussion and to have us establish our cultural ideologies."
– Kate Stritzinger, Transitional Housing Corporation
Julia really enjoys working with guests to get over their fears, especially when it comes to our jump element, the Terrapin Flyer. When she is able to talk to someone and convince them that they will be safe it is awesome to see how brave they become and how accomplished they feel when the finally take the plunge.
She likes to tell guests that even our guides get scared every now and then, but the "Adrenaline is what makes it fun."
Visit Julia and the Rest of the Terrapin Adventures Crew for Some Fun & Excitement!
Conveniently located in Howard County, Maryland, between Baltimore and Washington DC, Terrapin Adventures is all about fun! In fact, you may say that we are on the cutting edge of fun. We have created a new realm of aerial adventures using only wood, rope and cable. Our high ropes course, which takes you up to 40 ft. in the air, and our Terrapin Explorer kids' course, designed for children ages 5-10, provide hours of fun as you walk, balance, swing, zip, climb, and crawl your way through each unique element. Even our team building events are packed with some serious fun!
Whether you're interested in Team Building activities for your group, a Birthday Adventure Party, or a fun day with family or friends – we can make sure you get your fill of thrills!
If you have any questions, please call Terrapin Adventure at 301.725.1313, or email us at info@terrapinadventures.com to learn more.