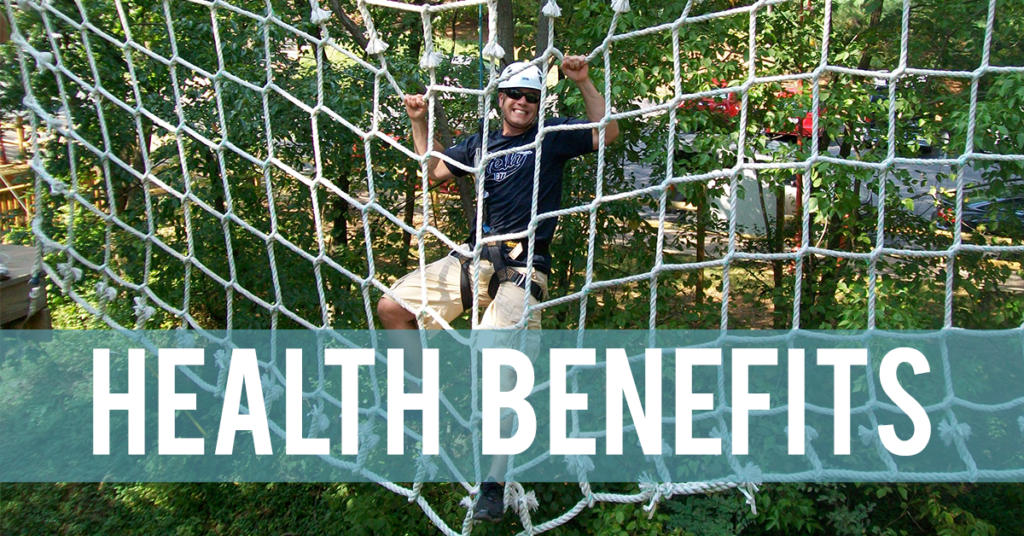 No one said exercise had to be boring. "One of the main problems is that people associate exercise with a gym or equipment," says Dr. Marc Tinsley. "I tell people to think 'outside the barbell.'" Fitness is about "having enough energy to do your activities of daily living safely and effectively." The challenge course, also commonly referred to as a ropes course, is a great way to exercise without even realizing you're exercising.
"The course requires a proficient amount of physical strength and flexibility, but it is more enjoyable and gratifying than it is physically taxing," says Shannon Gordon, University of South Florida track sprinter and health science major.
Physical Health
The Centers for Disease Control and Prevention suggests that adults perform at least 150 minutes of moderate aerobic activity or 75 minutes of intense activity every week. The ropes course can be a fun and engaging way to meet these exercise milestones without setting foot in a boring gym.
"If outdoor activity encourages more activity, then it is a good thing," says Jacqueline Kerr, a professor at the University of California, San Diego. After all, "despite the fitness industry boom, we are not seeing changes in national physical activity levels, so gyms are not the answer."
Upper Body Strength
"The upper body benefits the most from the physical challenges of the course because the muscles in the hands, forearms and upper arms are engaged substantially," says Gordon. Though, it is important to note that the challenge course is an excellent option for all fitness levels. You do not have to be in peak physical condition or an avid climber to enjoy the ropes course.
Lower Body Strength
"Balance exercises are also extremely important for enhancing and strengthening the muscles in the lower leg, which contribute to the movement and support of the ankle," says Gordon. You will get a full-body workout without even realizing your working out.
Work Overlooked Muscles
"The course requires balance and concentration," says Gordon. "Balance exercises incorporate the muscles located in the spine, abdominals and back, which are often looked over in recreational activities. These muscles are extremely important for a healthy and injury-free body. Strong back muscles and abdominals help improve balance and flexibility."
Mental Health
"From a physical standpoint it's incredible exercise, but some of the best tidings I get from climbing are what I would define as spiritual," says Cedar Wright, team climber with The North Face. "From a mental standpoint, climbing is an amazing teacher, instilling focus, balance, determination and a whole … host of valuable life skills."
De-Stressing
"It is a positive way to keep your mind engaged while relieving stress and tension building up." says Gordon.
Traversing the ropes course can be an almost spiritual experience, helping participants escape reality and de-stress. "Exercising outdoors decreases feelings of tension, anger, and depression," writes Abigail Wise, RealSimple.com.
Researcher Jenny Phan studied the benefits of the challenge course experience on 120 subjects and found that 63-73 percent of participants indicated the challenge course helped them better cope with their fears, stress, and low self-esteem.
"Leisure is a form of an escape from the everyday demands for every individual," writes Phan. "Leisure is not only a time to bond with others and have fun, but to also bring healing and wellness to the individual."
Self Confidence
"The challenges of the course help instill positive personality characteristics like self-esteem and trust in the climber," says Gordon. "By pushing you to reach certain personal achievements within the course, self-confidence is built and strengthened."
Phan's research agrees, finding that 81 percent of participants indicated their confidence level increased following an evening on the ropes course. Of the 120 participants, 79 stated that the activities had some type of an impact on their ability to overcome fear, 76 noted a positive impact on self-esteem, 104 trust, 97 confidence, 83 empathy, 75 ease of stress, and 94 noted a positive outlook on life after their afternoon on the challenge course.
"Emotional well-being also plays a vital role in a person's health," writes researcher Jenny Phan.
Exercise the Body and Mind at Terrapin Adventures
"People often tend to forget about the importance of spending time outside and underestimate the health benefits," says Urmet Seepter, goodrelaxation.com.
Conveniently located in Howard County, Maryland, between Baltimore and Washington DC, Terrapin Adventures features the ultimate high ropes course with three levels taking you up to 40 ft. in the air! Each of the 19 traverses is designed to entertain and challenge participants. Try our islands in the sky, vine walk, raider bridge, heebie jeebie, or Tyrolean traverse to name a few.  Conquer them all if you can! You can climb down, be lowered on a static belay, or test yourself on the leap of faith.
If you have any questions, please call Terrapin Adventure at 301.725.1313, or email us at info@terrapinadventures.com to learn more.
Works Cited
Gordon, Shannon. "Fit 5: Benefits of the ropes course." The Oracle, www.usforacle.com/news/view.php/687699/Fit-5-Benefits-of-the-ropes-course.
Phan, Jenny. The Impact of Therapeutic Recreation Through Ropes Courses and Teambuilding Activities . California Polytechnic State University.
"Reach for the Tress: The Mental and Physical Health Benefits of High Ropes." Benefits of High Ropes, Rope Runners, www.roperunners.co.uk/about-us/benefits-of-high-ropes/.
"The Benefits of High Ropes." Skywalker – Adventure Builders, www.skywab.com/en/blog-uk/1858-the-benefits-of-high-ropes-high-rope-courses-are-a-fun-and-exciting-way-to-get-outdoors-and-get-some.