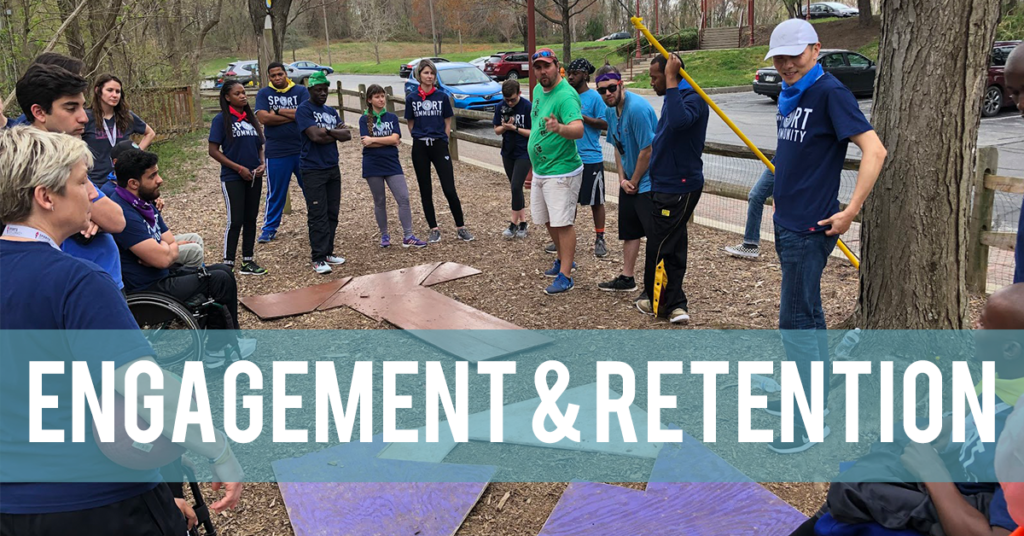 If you've read our blog over the last few months, you know just how much we believe in the Power of Play – making our team building programs fun! It's a scientifically-proven way to speed up learning, improve communication, and build trust. It's also a great way to "increase job satisfaction," says Lynn Barnett, a professor of recreation, sports and tourism at the University of Illinois at Urbana-Champaign, which can lead to more employee engagement and greater retention.
Fun Leads to Employee Engagement 
"The idea of workplace fun seems positive, straightforward and simple but emerging research suggests a surprising complexity and ambiguity to this concept," write researchers Barbara Plester and Ann Hutchison, University of Auckland, New Zealand. That's because fun is not universal. What one person finds fun, another may not. So, how do you find what works for your group? And how do you implement those findings? 
The best approach may be to cast a wide net. Try several different approaches. Here are a few suggestions:
Learn to Motivate, Not Just Manage
"Ditch the boss mentality," says Natalie Wickham, Quantum Workplace. "Your employees want more than just an order — they want to be advised, coached, and nurtured." According to a study by Fuel50 and Quantum Workplace "85 percent of highly disengaged employees think they don't receive enough coaching from their manager."
So, step out of your office and start looking at your employees through a new lens.
Engage Employees at Every Level
Increasing job satisfaction and "fun" is not all…well, fun and games. Sometimes, it's just a matter of re-thinking how you think about the workplace. A recent study conducted by Modern Survey found that 70 percent of employees are "disengaged" or "under-engaged" at their current job, and only 8 percent are "fully engaged."
"Each of your employees has unique strengths that can help you as a manager," says Wickham. So, instead of unilaterally making decisions that affect everyone, start engaging everyone in the decision making process.
"Employees consider a workplace fun if they're engaged in what they're doing," writes Bob Reticker, Insperity. And "engaged employees enjoy their jobs and have fun while contributing to workplace functionality."
Create Socialization Zones
"Create areas where employees are encouraged to take a quick break and interact with one another," says Wickham. "A lunch room, ping pong table, basketball hoop, or bank of couches all provide areas for a quick break to recharge."
Remember, all work and no play not only makes Jack a dull boy, but also really impacts job satisfaction and employee engagement.
Shake Up the Work Day
"If the everyday 9-to-5 slog is wearing on your employees, pepper in some different opportunities," says Wickham. You can schedule outdoor meetings to get some fresh air, you can allow your employees to work remotely from home now and then, or maybe invest in standing desks to make the workplace more enjoyable.
Of course, the best way to shake things up is to get out of the office completely. 
"Socializing outside of work is an effective way to increase employee engagement at work," says Wickham. "It can lead to strong working relationships, effective communication, and increased job satisfaction." And it may come as no surprise, but we think team building is a great way to add a little meaningful fun into your day!
"Team building retreats can be an incredibly powerful way to increase your workforce's camaraderie, develop more productive relationships and improve levels of communication and cooperation," says Michael Henman. 
Team Building: Using the Power of Play to Engage & Retain Staff
According to the Wall Street Journal, a high employee turnover rate can cost "twice an employee's salary to find and train a replacement." That is definitely not good for business. And engagement is the key.
"People leave jobs mostly because they don't get along or understand their co-workers and supervisors," says Matt Baker, Terrapin Adventures. "Here at Terrapin Adventures, we use structured play to build stronger relationships."
Step 1) Icebreaker
"First we break the ice and set a positive tone for the day," says Baker.
We know that many people cringe at the word "icebreaker," however, it's important to get people in the right mindset for team building. This means loosening up, and laying the foundation for trust and collaboration. An icebreaker is the best way to do this.
Step 2) Gamification
"Second we try to use games to get people to know each other beyond a cursory level," says Baker.
While the icebreaker sets the tone, games like Two Truths and a Lie really help build more meaningful relationships. Your employees learn more about one another, which will help improve communication, trust, and ultimately job satisfaction. And the idea of gamification or the Power of Play, really helps "supercharge learning," write Lawrence Robinson; Melinda Smith, M.A.; Jeanne Segal, Ph.D.; and Jennifer Shubin. "While play is crucial for a child's development, it is also beneficial for people of all ages."
Step 3) Building Trust
"Third we lead groups through exercises that focus on building trust," says Baker, "especially when failure to trust has consequences."
Some of our favorite exercises are Mousetrap, where participants use real mouse traps and learn to trust partner as they set off trap while blindfolded, and the Blindfold Walk, where one person must help their blindfolded partner negotiate a path using only verbal instructions. Both push participants beyond their comfort zones and really help improve communication and trust. But we do it in a fun way, because "when we are at play, we are more relaxed and receptive to learning," says Baker. "We lower our guard and try new things."
Step 4) Focus on Communication
"Fourth we give people a deeper appreciation for the nuances of clear communication," says Baker. One of our favorite exercises is the Group Juggle. It's all about "understanding the equal importance of timing and packaging of messages," says Baker.
"The general consensus of the executives was that effective communication skills are more important now than ever before for business success," say researchers James Bennet and Robert Olney, "and these skills will continue to be a critical component of the information society."
Step 5) Problem Solving
"Fifth we challenge teams to solve problems with an open mind and to think differently," says Baker. Again, we do this using some pretty fun team building exercises like T-Puzzle. Team members take puzzle pieces and try different perspectives to make the letter T.  The process for exchanging ideas and vetting them is just as important as the solution.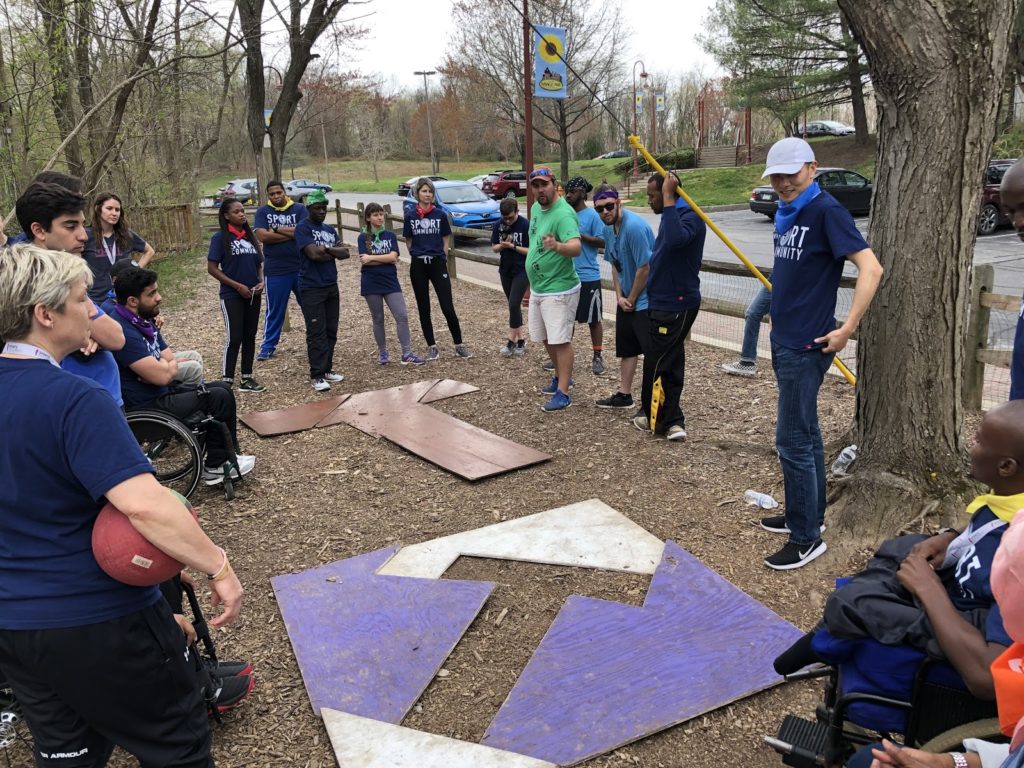 "Researchers at the University of Cambridge found that, though seemingly unproductive, play time is one of the most effective ways to inspire creativity," writes Vanessa Van Edwards, Inc. "It's about enjoyment but it often leads to the generation of productive ideas because it allows the brain to think about tasks in unstructured ways and make connections that it typically wouldn't while in pursuit of a specific goal."
Step 6) Collaboration
"Sixth we encourage teams to collaborate and develop and execute a plan where sometimes you lead and sometimes you support the effort," says Baker.
At the end of the day, collaboration is one of the most important aspects of any good business. To help promote better collaboration and teamwork, we use a team building exercise called Pipeline. In this exercise, the group sets a goal for how many attempts it will take to transport cargo over a pipeline the group constructs.  Each attempt costs precious resources so the group must negotiate the risk-reward return for each attempt while learning from past failures.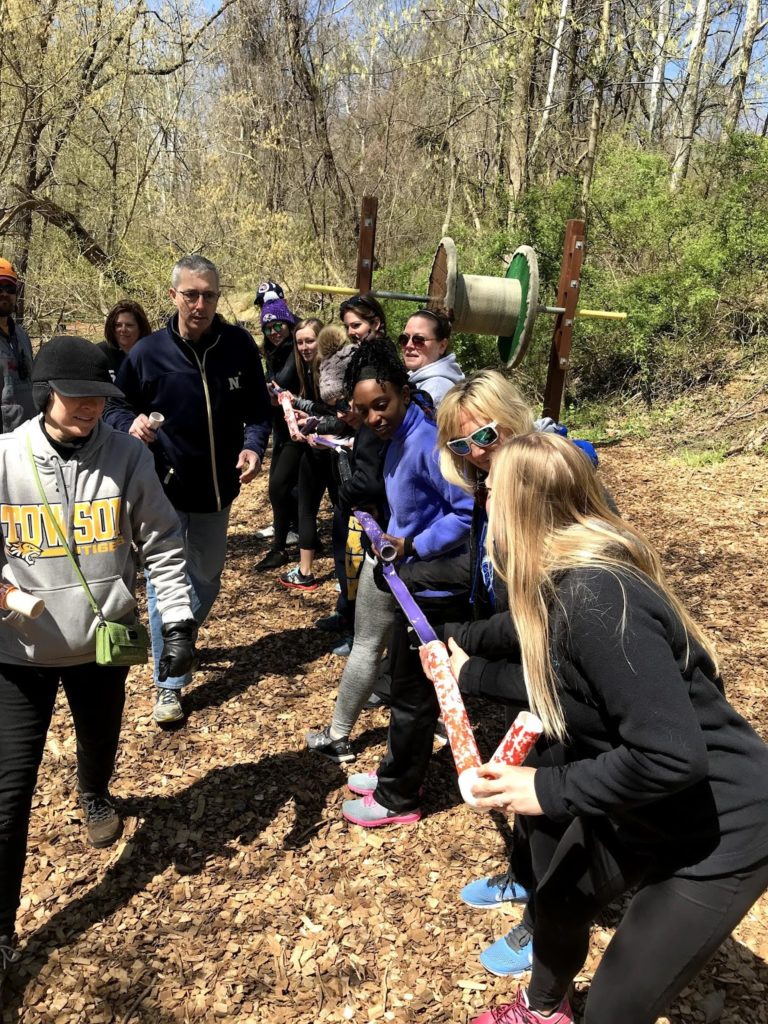 Schedule Your Corporate Team Building Session to Improve Engagement and Retention
Terrapin Adventures, conveniently located between Baltimore and Washington DC, is able to create a customized program to help improve trust, communication, engagement, collaboration, and problem solving. "Terrapin Adventures does this in a fun way so that team members are engaged and having fun which above all else makes it memorable," says Baker.
We can accommodate up to 200 people in a comfortable indoor setting or we can come to you! Indoor or outdoor, on-site or off.
If you have any questions, please call Terrapin Adventure at 301.725.1313, or email us at info@terrapinadventures.com to learn more.