"The business world is in the midst of a sea change," says David W. Ballard, PsyD, MBA, head of the American Psychological Association's (APA) Psychologically Healthy Workplace Program. "Successful organizations have learned that high performance and sustainable results require attention to the relationships among employee, organization, customer and community.
Here are a three simple ways to motivate your employees and keep them motivated.
1) Show Your Employees You Care
This seems like a no-brainer, but you would be surprised just how many employees feel undervalued. Overall, more than one in five (21 percent) working Americans said they do not feel valued by their employers. This could be due to a number of factors:
Little to no opportunities for involvement in decision making

Poor work/life balance

Lack of flexible work arrangements

Poor monetary compensation
Meanwhile, research from the American Psychological Association (APA) suggests that showing your employees that they are appreciated is a simple way to boost productivity. According to the study, "Almost all employees (93 percent) who reported feeling valued said that they are motivated to do their best at work" and 88 percent reported feeling engaged.
2) De-Stress via Exercise
According to the Anxiety Disorders Association of America's (ADAA) 2006 Stress & Anxiety Disorders Survey, employees say stress and anxiety most often impact:
workplace performance (56 percent)

relationship with coworkers and peers (51 percent)

quality of work (50 percent)

relationships with superiors (43 percent)
According to researchers Tracy Hecht and Kathleen Boies, the stress relief solution you've been looking for could be exercise. According to the pair, "sports, recreation, and fitness programs lead to less somatic complaints and higher life satisfaction," as well as "lower absenteeism and higher job satisfaction."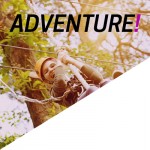 A day out of the office could be a great way to motivate your employees and show them you care. "Working in an office can be a very sedentary job, so it's especially important to your overall sense of health and happiness to take a few minutes during your workday to get up and move a little," says Jason Bergund, founding director of Dancetherapy. So, consider rewarding your employees with a day (or half day) at Terrapin Adventures. Conveniently located between Baltimore and Washington DC, Terrapin Adventures features a zip line, high ropes challenge course, climbing tower, the Giant Swing, and the Terrapin Flyer – a 40 ft. controlled descent..
"It takes about four hours to do all the adventures on site," says Baker.  We can customize a program to fit most groups' time and budget requirements.
Walk-ins are welcome, but guests are strongly encouraged you to call ahead or reserve their time online, especially large groups. Simply call 301-725-1313 or click http://bit.ly/19k3rHL to get started. If you have any questions, email info@terrapinadventures.com.
In 2010, researcher Jenny Phan measured the benefits of challenge course activities among 120 subjects and found that these activities "impacted the participants at an emotional and social level," and most participants saw a noticeable increase in their "emotional and social skills." Of the 120 participants, 79 stated that the activities had some type of an impact on their ability to overcome fear, 76 noted a positive impact on self-esteem, 104 trust, 97 confidence, 83 empathy, 75 ease of stress, and 94 noted a positive outlook on life after their afternoon on the challenge course.
"It is clear that challenge course experiences are beneficial tools for participants" and can impact "a variety of educational and psychological constructs," write researchers Gillis and Speelman.
3) Team Building: Structured Group "Play" Works Wonders
"Team developmental interventions are key mechanisms that may be used to facilitate team effectiveness," writes Raymond Noe in Employee Training and Development.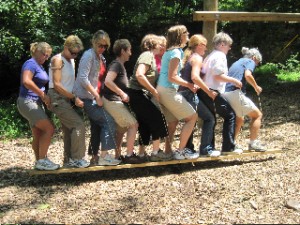 Team building is one of the most commonly applied group development interventions in organizations today, according to the scientific study "Does Team Building Work?" But what everyone wants to know is why? Why is team building so popular? And, most importantly, does team building help motivate employees? This was the questions that researchers Deborah Diazgranados, Cameron Klein, Eduardo Salas, Huy Le, C. Burke, Rebecca Lyons, and Gerald Goodwin sought to answer. They did this by looking at four specific team building components: goal setting, interpersonal relations, problem solving, and role clarification.
"Results (based on 60 correlations) suggest that team building has a positive moderate effect across all team outcomes," write Diazgranados et al.
However, without practice, the lessons learned during one afternoon of team building will be quickly lost. As the old saying goes, practice makes perfect. This is just as true in the office as it is on the basketball court, football field, soccer pitch, or hockey rink. "Team building, without some follow-up mechanism, is often a waste of time and energy," says researchers William J. Rothwell, Roland Sullivan, and Gary N. McLean – which is why researcher John N. Peragine claims, "Follow-up is the most important step in any team building exercise."
Just like in sports, one practice is not enough to enact lasting change. Even the great Michael Jordan works tirelessly to perfect his game.
"Some people want it to happen, some wish it would happen, others make it happen."
– Michael Jordan
"There is a relationship between the follow-up actions taken and perception of team building success," writes researchers H.S. Kriek and P. Venter. As researchers William J. Rothwell, Roland Sullivan, and Gary N. McLean explain, "Much of the research on team building suggests that teams that do a one-time team building session but fail to create any follow-up activities to reinforce what they've learned quickly regress to their previous behaviors." This is why Terrapin Adventures recommends a follow-up session every three to six months. These follow-up sessions are also an excellent opportunity to expand up those previous lessons and take your team to the next level. It takes time to enact positive, long-lasting change.
Works Cited
Ciotti, Gregory. "10 Insights on Building, Motivating and Managing an Exceptional Team." Entrepreneur. N.p., 10 June 2014. Web. 05 Apr. 2017.

Bethune, Sophie, and Luana Bossolo. "APA Survey Finds Feeling Valued at Work Linked to Well-Being and Performance." American Psychological Association, 8 Mar. 2012. Web.

Kriek, H. S., and P. Venter. "The Perceived Success of Teambuilding Interventions in South African Organisations." Southern African Business Review 13.1 (2009).

Noe, R. A. (2002). Employee training and development (2nd ed.). Boston: McGraw-Hill.

"10 Tips for Staying Happy at Work." Interview by Jason Bergund. Monster. Web.