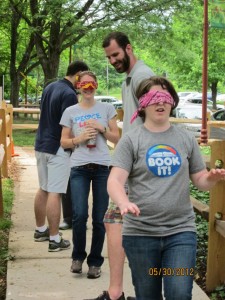 As a former basketball player I always appreciated a fellow player who passed me the ball where I wanted it. But how did they know where to pass it? Well I first communicated with my eyes and hands to give them a target and let the passer know when and where I wanted the ball. Then based on practice, the passer knows that I don't like a pass that is too strong or too low (us tall guys can't get down too easily).
The same principles apply to communication between co-workers. Some people like facts and are very business like. Others need more preamble and information to understand and process your request. You need to understand your audience, their preferences and personalities and adjust your message accordingly.
Pay attention to the receiver's body language as this often tells you more than what they say. As a receiver, providing feedback (paraphrasing what you understand to be the message) helps close the loop that a message's intent was understood and doesn't require more info.
Improving Business Communication through Team Building
Located between Baltimore and Washington DC, Terrapin Adventures is uniquely suited to provide a Team Building solution for any company, both onsite and offsite.Through our highly rated team building experiences our group facilitators and guides will lead your team through unique events, challenges, and trust exercises that will help them think creatively and collaborate with one another.
Click Here to request a date.
If you have any questions about Team Building or improving communication among your employees, please call Terrapin Adventures at 301.725.1313, email us at info@terrapinadventures.com, or fill out the contact form on our website. You can also follow Terrapin Adventures us on Facebook, Twitter, LinkedIn, YouTube, Google+, and Pinterest for up-to-date information on events, trends, and other fun and exciting outdoor activities.