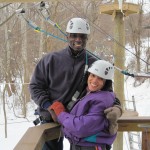 Winter Safety
Winter, especially in Maryland, is the teenage daughter of seasons. You never know what she's thinking and sometimes you want to punch her, but she looks so beautiful in photographs. Although the temperature has dropped and the wool hats are out, the sun can be its most dangerous this time of year. This isn't because winter brings out some new breed of super sun, but rather because we often times neglect the fact that the sun is still powerful in the winter, and thus fail to take appropriate precautions. In addition, we are exposed to the sun in new ways during the winter months. When we participate in activities like skiing and snow tubing, we're vulnerable to the UV Rays that are reflected by the snow, as well as the heightened exposure to the sun that comes from being at higher altitudes. So while it's great to enjoy winter and all her wonders, make sure to keep these tips in mind so that you can keep your skin safe this winter.
Tip 1: Apply Sunscreen
Before you hit the slopes, make sure to hit the 'screen. Skincancer.org recommends using SPF 30 or higher, and applying sunscreen at least 30 minutes before heading outside. In addition, you should reapply your sunscreen about every two hours, especially if you're working up a sweat.
Don't neglect the small areas like the lips, backs of the ears, and neck. You might miss them, but the sun sure won't. In a pinch, lip balm with an SPF can be applied to those smaller areas. Keep a travel-sized sunscreen handy for reapplication throughout the day.
Tip 2: Take Breaks
While you're planning a fun day in the snow, make sure to schedule time for hot cocoa in the ski lodge. Just as your body needs to recover from long bouts of physical activity, your skin needs to recover from exposure to light, pollutants, and weather. Plan at least one break to let your skin – and your body – recover from the harsh winter elements.
Tip 3: Cover Up
Once you've finished layering your long underwear, don't forget your hat and sunglasses. When used along with sunscreen, these accessories will offer great protection from the sun. If your hat doesn't quite cover your ears, consider adding earmuffs to your ensemble. And if you don't want to lose your favorite pair of shades in the snow, try ski goggles. They'll protect your skin and eyes, and you'll look like a pro.  Remember to take off a layer if you are overheating and if you are going to be active, you should be cool when you start to avoid getting too hot.
Tip 4: Hydrate
Always, always, always hydrate. Whether you're out in the sun or the snow, fluids are essential to keep your body moving. While layering is great for staying warm, it can also lead to overheating. Drinking plenty of water will help your body maintain its temperature, and keep you from reaching your boiling point.
Once you've traded in your hats and gloves for blankets and cocoa, make sure to hydrate your skin. The cold can leave your skin dry, rough, and cracked, which can lead to cuts and soreness. Use a good moisturizer to restore your skin to its pre-weather condition, because while it's essential to hydrate your body, your skin needs hydration too.
Keep these tips in mind, and you're sure to have happy skin this winter!
Lauren Daly, Guest Relations Specialist, Terrapin Adventures