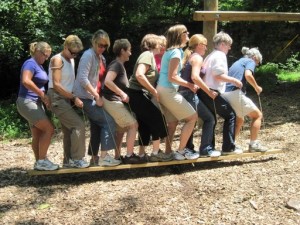 The Merriam-Webster Dictionary defines leadership as "the power or ability to lead other people." Snuggwugg CEO Lisa Cash Hanson defines leadership as "The ability to guide others without force into a direction or decision that leaves them still feeling empowered and accomplished," while Activate Your Talent founder Katie Christy says "Leadership is the ability to not only understand and utilize your innate talents, but to also effectively leverage the natural strengths of your team to accomplish the mission."
You have probably started to notice a pattern.
Randy Stocklin, co-founder and CEO of Readers.com, says "Leadership is the ability to help people achieve things they don't think are possible." And OrganicLife CEO Jonas Falk claims "Leadership is the ability to take an average team of individuals and transform them into superstars. The best leader is the one who inspires his workers to achieve greatness each and every day."
So, have you figured out the pattern? All of these successful business leaders use the same word in their definitions – ability. And these are just a few of the countless examples we found. You see, anyone can become a leader by ascending to a position of power, but not everyone has the ability – the qualities needed – to be an effective leader. Fortunately, these abilities can be learned over time.
"Leadership is not a personality style; it is a learned set of skills attained through development opportunities that are integrated to a lifestyle of learning," says researcher Katherine T. Whitnah.
Becoming a Better Leader
The only way to learn how to become a better leader is to get out there and do it – experiential learning. As American psychologist, philosopher, and educational reformer John Dewey once famously said, "there is an intimate and necessary relation between the processes of actual experience and education." This is the basis of the challenge course (ropes course) experience.
Challenge courses got their start in 1941 as a military tools to train soldiers, and can be characterized as either low or high ropes courses. Low challenge courses comprise of activities that require spotting (spotters) and typically focus on collaboration, communication, and problem solving, while high challenge courses are those requiring belaying and focus on building trust and learning to focus in chaotic situations. Both low and high ropes courses have proven to be effective tools in leadership development.
"Data support[s] the notion that participation in a four-hour challenge course significantly increases the participants' levels of leadership and work efficacy," write researchers Theresa Odello, Eddie Hill, and Edwin Gómez, who measured leadership and work efficacy levels pre-challenge course, immediately post challenge course, and six weeks after. "Results were significant" and longlasting, say the researchers.
"It is clear that challenge course experiences are beneficial tools for participants" and can impact "a variety of educational and psychological constructs," explain researchers H. Lee Gillis, a Professor in the Department of Psychology at Georgia College & State University, and Elizabeth Speelman, the Assistant Director of Program Development for the Youth Learning Institute at Clemson University. The two analyzed 44 studies (2,796 participants) that examined the impacts of participation in challenge course activities.
"[The] data corroborates the common qualitative assertions regarding the importance of the relationships that are positively impacted through the use of challenge courses."  
Terrapin Adventures is Here to Help!
"In the same way that naturally occurring events create changes for an organization, an organization has the ability to create a team building event that contributes to a culture of dynamic leaders who naturally adapt and respond to change," writes Whitnah. This is where Terrapin Adventures comes in. Our Team Building Programs can elevate your organization and make you shine.
"There is no one-size fits all approach, answer key or formula to leadership," says Christy. This is why Terrapin Adventures creates customized programs (onsite or offsite, indoor or outdoor) designed specifically for each client. Our programs provide for exciting activities that bridge the gaps in communication, improve collaboration, and expand your group's problem solving skills. Let us help you grow as a leader!
If you have any questions, please call Terrapin Adventure at 301.725.1313, or email us at info@terrapinadventures.com to learn more.
Works Cited:
Helmrich, Brittney. "33 Ways to Define Leadership." Business News Daily. N.p., 2016. Web. 18 Nov. 2016.

Whitnah, Katherine T. A Phenomenological Inquiry: In the Context of Organizational Development, How Does Experiential Team Building in the Form of a High ROPES Course, Contribute to Positive Leadership Development, and How Can It Be Improved? Adler Graduate School. Web.

Rohnke, Karl, Catherine M. Tait, Jim B. Wall, and Jim B. Wall. The Complete Ropes Course Manual. Dubuque, IA: Kendall/Hunt Pub., 1997. Print.

Odello, Theresa, Eddie Hill, Suny Cortland, and Edwin Gomez. "Challenge Course Effectiveness: The Impact on Leadership Efficacy and Work Efficacy among College Students." Journal of Unconventional Parks, Tourism & Recreation Research 1.1 (2008): 18-22. Web.