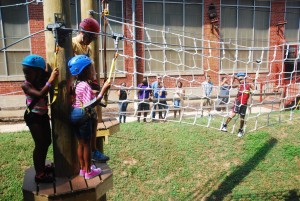 At Terrapin Adventures Outdoor Adventure Center, we have witnessed firsthand the positive effects that team building and challenge courses have on students. Terrapin Adventures specializes in creating memorable field trips for school groups that creates changes in student's relationships and behaviors.
A typical day of team building for a school groups at Terrapin Adventures includes name games, ice breakers, mind teasers, initiatives, problem solving, low challenge courses, high challenge courses, zip lining, climbing and traversing. All of these activities have an assumed inherent risk, and it is important that each student shows a level of maturity before they are able to participate in each activity.
At the beginning of a day, we are faced with a group of students with a wide range of personality and behavior traits, as well as different degrees of self-confidence. Through initiative activities and low challenge courses, Terrapin Adventures facilitators work to bond the students into a cohesive group that show respect, maturity and responsibility. An example of an activity that staff may employ to achieve this goal is our low challenge course element, The Beam. The goal of this initiative is to get participants over an eight-foot beam using strict rules and guidelines. Obstacles that the students have to overcome during the course of this activity are trust, respect, communication and leadership issues. The transformation that students go through not only when completing these initiatives but also when going through the steps to reach their goals, is remarkable. By the end of the morning, the majority of students have already matured and found a new sense of self-confidence that was achieved by simply being placed in a situation that required them to think out of the box, trust & work with others and step out of their comfort zone.
As the day progresses, and students move onto high challenge course elements they become an even more cohesive group and it is clear to see the changes in self-confidence in individuals. Students also realize that safety is a major concern during adventure activities, and become very attuned to the staff's instruction and to helping their fellow classmates get passed any fears or obstacles they may face.
Parents realize the value that teambuilding and challenge courses have on their children. Johanna Nathanson, made the following statement about her son, Sam, age 12, "I wish he had more of this type of activity all year long". She then went on to say that the challenge course at Terrapin Adventures was one of the best things Sam has ever done for his self-confidence.
By actively participating in team building and challenge course activities, students go home more self-confident and with more maturity then they started with just a few short hours before.
Terrapin Adventures is an outdoor facility for family recreation, group team building and fun located at historic Savage Mill. For more information call 301-725-1313 or go to www.terrapinadventures.com.