Thrills and Chills – Ghost Tour and Zip
Experience thrills at night on our zip line and giant swing. Then take a haunted ghost tour of Savage Mill to learn about its industrial past and the people who lived and worked there. Then enjoy delicious food and drink at Rams Head Tavern (not included in price).
No matter the occasion, let our Guest Relations staff help find the right adventure for you. Groups of 10 or more can receive a discount by booking one of our Party Packages in advance, or we can customize an event for larger groups. Call our office to talk to one of our group/party planners and check date availability or fill out the Group/Party Inquiry Form.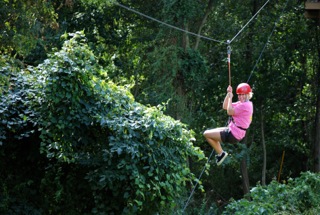 Activity Level: Thrilling
Cost: $39.95/Person
Party Length: 2.5 Hours
Recommended Party Size: 10-30
More Party Options:
To help you decide which party package is right for your group, we have classified them into levels of Activity. Easy, Moderate, Thrilling, & Challenging.
Easy:

Moderate:
Thrilling:

Challenging: