Adventurous Events
Terrapin Adventures is all about fun!  Throughout the year we have adventurous events that give back to the community and are extraordinary.  We also like to thank our guests with special offers.
Be sure to Subscribe to our Newsletter to get advanced notice of events and special offers! 
---
Saturday & Sunday Special 10:00 am Terrapin Challenge only $69/pp.
---
St. Patrick's Day 3/18/17
We are open, wear green and get a free TA sticker!
---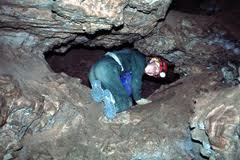 Discover a hidden world beneath your feet. Whether you call it caving, spelunking, or potholing you will experience the adventure of a lifetime. Our knowledgeable guides will introduce you to the basics of cave exploration, safety, and stewardship.
Terrapin Adventures will provide:
Box Lunch
All necessary caving gear (helmets, headlamps)
Friendly, knowledgeable guides.
Cost $69 per person; trip dates:  Call 301-725-1313 if you have eight or more people to schedule a custom caving trip date.
---
Nature Kayak Tour: Activity Level: Easy
Come join us as we explore one of the gentlest rivers in the Baltimore-Washington area, the Patuxent River. Our experienced and entertaining guides will explain the basics of kayaking from paddling to steering and how to safely enter/exit your kayak. All our kayak's are safe and stable, they track well and are responsive to your paddling efforts. We often see many different kinds of wildlife like birds, fish, and turtles as we meander quietly on the many coves and inlets. About halfway through we will stop to enjoy a snack we provide before heading back.
3 Hour Tour is $49. Add a picnic for $20/person if you have at least 8 people. Must be 10 years old. One adult must accompany each 2 minors. All tours subject to minimum number of participants. Book Now! 
---
Go Green and Scream! 3/26/17
Do you love our planet? Do you love adventure? Meet at Terrapin Adventures at 8:00am to pick up trash from Savage park and the banks of the little Patuxent river for 1-1.5 hours and get free zip, swing or jump!
---
Girl Scout Lock-in Adventure!  4/21 & 5/26
Daisy and Brownie Adventure

 S'mores, Explorer, Stargazing, 4/21/17 (click on date to book or see availability) 6:00 PM – 8:00 AM
Call 301-725-1313 if you have 15 or more scouts to schedule a custom program. 

This adventure is perfect for the younger explorer! We will be traversing our  Explorer kids course and then get to experience the night sky by creating a craft to help us learn where to find the seasons constellations. We will then take the adventure back outside and view the stars for ourselves while snacking on some s'mores! Needs a minimum of 15 scouts to run.
Junior and Cadette Adventure

 S'mores, Zip lining Swing, Night Hike
5/26/17 (click on date to book or see availability) 6:00 PM – 8:00 AM
Call 301-725-1313 if you have 15 or more scouts to schedule a custom program.

The adventure is a thrilling one where the girls will get to experience some excitement on our zip line and our giant swing. Once the sun goes down we will be embarking on a hike through the local trails and get a chance to experiment with our other 4 senses… including taste with some delicious s'mores. We will be sleeping in the two party rooms we have. Both adventures get pizza, non-caffeinated sodas and veggies for dinner. Then they get breakfast in the morning of cereal, fruit and juice pouches. The parents get bagels and coffee in the morning. The younger girls' adventure will go from 5:00 PM- 9:30 PM, lights out at 10:00. The older girls' adventure will go from 5:00 PM-10:30 PM, lights out at 11:00 PM. No more then 30 girls per night and we are doing a 1:6 ratio for the girls then an additional chaperone for every 4th girl. We will have two Terrapin Adventures staff staying the night. $65 per girl and $40 per adult. Patches are included.  Needs a minimum of 15 scouts to run.
---
Eggcellent Adventure 4/9/17

The most unique egg hunt in Maryland! Children will meet the Easter bunny, receive a complimentary egg basket, and hunt for candy filled eggs in the historic Savage Mill. Then they will get geared up and soar to new heights for one hour on our Terrapin Explorer Course: the course includes two zip lines, two levels of 20 challenging elements, and a 20 ft. tall rock wall. The Explorer Course is designed for children between the ages of 5-10. Come let yourself soar!
Cost is $10/child for the egg hunt. Register at: http://www.savagemill.com/easter-egg-hunt/
Adventure course runs at 10:00am, 11:30am, 1:30pm, and 3:00pm.
Egg hunt runs at 11:00am and 1:00pm.
---
Cherrybration 4/23/17
Its our anniversary!  Terrapin Adventures will donate 10% of recreational proceeds to Howard County Blossoms of Hope!  We will be giving out FREE slices of cherry pie to all. =)
---
Moms Fly FREE! 5/14/17
For any 2 paid guests, Mom gets a free zip line!  Use promo code MMF to book online now!  *Must add the single zip for mom to the cart in order for the cost of the zip to be subtracted.
---
Memorial Day 5/29/17
---
Father's Day 6/18/17
For every 2 full price challenges, Dad gets challenge for free!  Use promo code BOGOTC to book online now!
---
GeoCaching 2017 Dates: 3/26, 4/22, 5/28, 6/17, 7/23, 8/19

Learn the hottest new adventure game that is played all over the world – geocaching! Find buried treasure as we teach you how to use a GPS system. It is tons of fun as we crisscross trails, trek through the woods, and over streams to find hidden caches.
3 Hour tour is $35. Minimum number for a tour is 4 guests. Maximum group size is 24. Book Now!
All tours start at 9:00 am.   Call 301-725-1313 if you have four or more people to schedule a custom Geocaching date.